This High-Tech Blazer Is Lined With Odor-Eating Coffee Grounds
By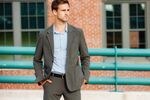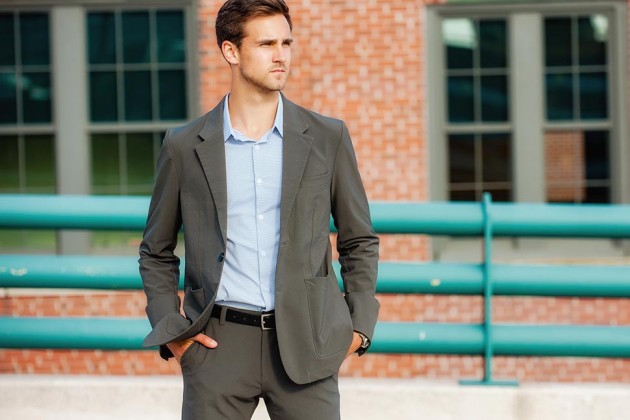 For some men, donning a blazer summons a picture of their dad. And yet some settings and occasions call for more than just a collared shirt. Now a startup has introduced a jacket that combines the look and structure of a tailored garment with the technology of a sporty windbreaker. Pardon the cliché: This isn't your dad's blue blazer.
For starters, the $278 Aviator blazer, made by Boston–based Ministry of Supply, has a few innovations, starting with a polyester lining containing coffee grounds to absorb odor. (The company first introduced coffee in its stink-controlling socks.) And don't think it's as easy as shoving coffee pods in your armpits. This coffee goes through a pharmaceutical process whereby it's washed in sodium hydroxide, which removes the oil and smell from the grounds.
Only recycled beans are used, which are collected from various coffee shops by the Taiwanese workers who manufacture the jackets. "They have a big collection bin of spent grounds in the office," says Gihan Amarasiriwardena, Ministry of Supply's co-founder and chief executive officer.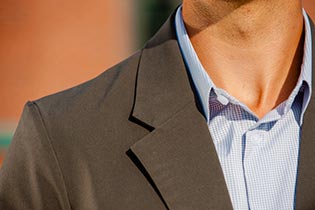 The company used heat mapping to determine the best placement of laser-perforated vents, which also help expel moisture. When the jacket eventually needs a cleaning, it can be thrown into the washer. (Not to worry: The grounds retain their odor-fighting power.)
The jacket is also designed to be a cross between a formal garment and outerwear suited for biking to work. The company used a 3D-imaging technique called photogrammetric strain analysis to figure out where the body moves the most, and then targeted those spots—across the shoulders and around the elbows—with four-way stretch panels. "With any material, there's a direction that it's going to stretch the most, and we make sure that that aligns with the way your skin stretches," Amarasiriwardena says. The jacket also has a wind-resistant and water-repellant finish, so you can bike to and from the office in the rain without drenching your undershirt.
Ministry of Supply began in 2012 with a successful Kickstarter campaign for its Apollo dress shirt, which incorporated phase-change material used in NASA spacesuits to transfer heat away from astronauts' skin when they're hot and release it when they're cold. The company's three co-founders met at MIT's Entrepreneurship Center, where they discovered a shared background in athletics and an interest in translating the performance of their sports apparel into professional clothing.
Kit Hickey, a rock climber, marveled at how her Capilene shirt performed better than her regular blouses. Aman Advani hated his air-trapping dress socks so much that he replaced their bottoms with those from a Nike Dri-FIT pair. And Amarasiriwardena studied chemical engineering as a means of improving the outdoor gear he first used as a Boy Scout.
The Aviator jacket is part of Ministry of Supply's effort to emphasize form as much as the functionality woven into the fabric. The company recently hired a former Brooks Brothers designer, Jarlath Mellet, as its design director, even though it doesn't intend to mimic the traditional look. In fact, the jacket's material, a nylon-and-elastane blend, gives off a slight sheen. "It has a more technical aesthetic," Amarasiriwardena says.
But one that isn't too jarringly futuristic. The goal, he says, is to make clothes that are an extension of the body. "We're really trying to create a second skin, and we think that the best way to do that is with a fundamental understanding of how our body works."
Before it's here, it's on the Bloomberg Terminal.
LEARN MORE