pursuits
1976 Apple 1 Computer Sells for $905,000
By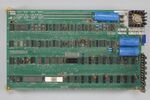 The Henry Ford bought the 1976 Apple 1 computer at Bonhams's History of Science auction for $905,000 ($750,000 before fees)—well above the estimated value of $300,000 to $500,000 and the previous high price paid of more than $671,000. The motherboard will eventually go on permanent display at the Henry Ford Museum in Dearborn, Michigan.
"Similar to what Henry Ford did with the Model T, Steve Wozniak and Steve Jobs put technology directly in the hands of the people with the creation of the Apple-1, completely altering the way we work and live," Patricia Mooradian, the Henry Ford's president, said in the institution's press release. The Apple 1 was the first pre-assembled computer to come to market.
The Henry Ford's acquisition is believed to be from the initial run of 50 Apple computers ever produced—soldered together in the Jobs family's garage—and one of 15 in working condition.
"The likelihood that a unit as complete as this will come up for auction is slender," says Kristen Gallerneaux, one of the museum's curators, in a statement. "The Henry Ford would have been remiss in holding off much longer in acquiring one for our collection."

Before it's here, it's on the Bloomberg Terminal.
LEARN MORE