'Fearbola' Spreads as Virus Disrupts Flights, Classes
Mark Drajem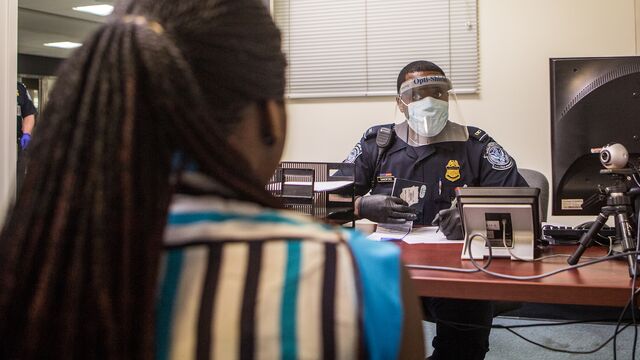 Three African journalists won't be studying the U.S. First Amendment this month. A Nebraska child was disinvited from a friend's birthday party. A diabetic woman sent a shiver through the Pentagon after she got ill in a nearby parking lot.
After the first person in the U.S. was diagnosed with Ebola, worry spread nationwide faster then the virus. The disease, which has infected almost 10,000 people in Sierra Leone, Liberia and Guinea, shook U.S. financial markets, closed schools in two states, delayed flights and temporarily marooned a cruise ship outside a Caribbean port.
"The fear can be more viral than the disease itself," said Dana March, a professor of epidemiology at the Mailman School of Public Health at Columbia University. "The panic involved is an extreme reaction, and is far more damaging."
The flurry of disruptions was triggered by news that a Liberian man, Thomas Eric Duncan, died Oct. 8 of the disease in a Dallas hospital and two nurses who treated him then contracted the disease. Both are still hospitalized.
While the deadly virus hasn't so far spread further, a separate malady has: CNN commentator Mel Robbins dubbed it "Fearbola." Health writer Maryn McKenna termed it "Ebolanoia."
'Not Appropriate'
"That level of paranoia is just not helpful and it's just not appropriate," Mark Rupp, medical director for the department of epidemiology at the University of Nebraska Medical Center, said at an Oct. 20 news conference. "You don't pick up Ebola from riding a school bus, taking an airplane ride, from passing someone in the grocery store."
For U.S. airlines, the risk of Ebola triggered a short term decline, sending the Bloomberg airlines index down 15 percent from the day before Duncan's case was disclosed until Oct. 13. As fears waned, the index has more than regained its value.
One of the infected nurses flew on Frontier Airlines Inc. to Cleveland and back before she was diagnosed with the virus. As a result, Frontier has contacted 1,035 passengers who flew with the nurse or had flights on the aircraft. The plane was cleaned, re-cleaned and idled indefinitely. Four pilots and eight flight attendants were put on three-week leave with pay, and Frontier offered a one-day 20 percent discounts to frequent customers.
Passenger Checks
Airplanes held on the tarmac or taken out of service are costly for airlines, said Richard Bloom, chief academic officer at Embry-Riddle Aeronautical University's Prescott, Arizona, campus.
"The more new Ebola-related safety procedures are implemented that would decrease the amount of time" a plane can fly "the more of a cost there's going to be," he said.
On Oct. 13, five fliers with flu-like symptoms were hustled off an Emirates Airline jet in Boston, three days after a Delta Air Lines Inc. plane was held in Las Vegas because of concern a passenger might have Ebola. Seven flights to Paris, Europe's second-busiest hub, were isolated for the same reason. None of the passengers were infected.
Concern about contracting Ebola also has disrupted lives.
The child of a health care provider at a Nebraska hospital who helped treat an Ebola patient was barred from a friend's birthday party out of fear the disease could spread from hospital worker to the child to classmates vying for the pinata entrails, Rupp said.
At Death
People infected with Ebola aren't contagious before showing symptoms, which include fever, vomiting and diarrhea, according to the U.S. Centers for Disease Control and Prevention. The disease is most contagious just before death, when the patient is releasing large amounts of infectious fluids, Rupp said. Handling corpses also is dangerous.
"You really aren't very contagious until you are very sick," Rupp said. "People can live in close proximity to an Ebola victim, and still not contract the disease."
The awful way the disease kills spurred fears that led many parents, airline employees and passengers to act, they often said, out of an abundance of caution.
"We have to differentiate between an abundance of caution and an abundance of ignorance," said Ashish Jha, the director of the Harvard Global Health Institute. Jha said that following Duncan's death, it became clear hospitals had to better protect their workers, and that it makes sense for first responders -- ambulance drivers or firefighters -- to ask feverish victims if they have been to West Africa.
"We have to find the balance between being careful and going overboard," he said.
Best Protection
The International Association of Fire Fighters produced a video showing proper steps for putting on and taking off impermeable safety gear. They are also urging training so that members can differentiate between threats and false alarms.
"Everybody is scrambling, but that's going to level off in a little bit," Pat Morrison, head of safety for the 300,000-member union, said in an interview. "If you do have a suspected patient, you have to make sure you are using the best protection."
In a Pew Research Center survey, 41 percent said they are worried that they or someone in their family will be exposed to the virus, up from 32 percent two weeks ago. Almost half (44 percent) aren't confident the federal government will prevent a major U.S. outbreak, a result public health officials say is a near impossibility.
CDC Calls
Late last week, the CDC was receiving more than 2,000 calls a day from individuals worried they might have come in contact with the disease, compared with an average of about 50 calls a day, said Barbara Reynolds, a CDC spokeswoman. Daily traffic this week fell to about 800 calls.
"At some point you can help a threat that's exotic and new, become less exotic and new," Reynolds said. "People are becoming more informed and becoming aware of what the threats may really be."
Fears of professors and students forced Han Reichgelt, vice chancellor of academic affairs at the University of South Florida in St. Petersburg, to cancel a five-day visit by 14 African journalists next week. The group, which had included two journalists from the affected nations, is part of the State Department's Edward R. Murrow program. That program sponsors U.S. visits by foreign journalists to "examine journalistic practices in the United States," according to the State Department website.
Deferred Visits
"It wasn't us catering to the fear and hysteria," Reichgelt said in an interview. "We just couldn't get the faculty and students to participate in the event."
In response, the State Department deferred the visits of journalists from each of those three nations -- including the two scheduled to go to South Florida -- to the Murrow meeting this month, said Nathan Arnold, a spokesman.
"We couldn't secure a substantial program based on the current environment," he said.
On Oct. 17, a woman left a bus in a Pentagon parking lot and began vomiting. She was rushed to a hospital on the suspicion her symptoms resembled Ebola while the parking lot was temporarily shut and other bus passengers and 17 emergency personnel were screened for the disease.
All were released and it was determined the woman didn't have Ebola.
"Given the hysteria of the times, we were off to the races," said Steve Gordon, who runs Total Spectrum, the Capitol Hill advocacy and political strategy firm where the woman worked.
Before it's here, it's on the Bloomberg Terminal.
LEARN MORE