Rand Paul Finds Issue to Connect with Religious Conservatives
By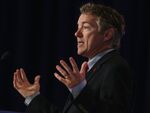 CEDAR FALLS, Iowa — One of the biggest challenges Rand Paul faces in a potential 2016 Republican presidential bid is courting religious conservatives, who play a large role in Iowa's lead-off nominating caucuses.
They're suspicious of his opposition to a national law banning same-sex marriage and his past statements that there could be "thousands of exceptions" to any abortion ban.
A controversy in Houston, however, is offering Paul a new speaking point to try to connect with evangelical voters in Iowa and elsewhere, by fusing his liberty message with their concerns over what's happening in Texas.
"We will not sacrifice our religious freedom on an altar of political correctness," Kentucky's junior senator told an audience Wednesday at the University of Northern Iowa.
Also on Bloomberg Politics: Libertarian Leads Republican Among Virginia's Young Voters: Poll
He was referencing Houston's mayor and her city's move to subpoena sermons and other documents from pastors who publicly opposed a local ordinance banning discrimination against gay and transgender residents.
"Can you image, in America, submitting your sermons to the leaders of government?" Paul asked. "I can't image anything American about that."
In May, Houston's city council passed an equal rights ordinance, which consolidates city bans on discrimination based on sex, race, age, religion and other categories and increases protections for gay and transgender residents. Supporters, including Mayor Annise Parker, have said the ordinance is designed to offer protections from discrimination in housing, employment and other areas.
Religious institutions are exempt, but city attorneys subpoenaed five pastors, seeking all speeches, presentations or sermons related to the mayor, homosexuality or gender identity after Christian activists sued the city, according to the Associated Press. Parker, who is openly gay, has said the subpoenas were designed to gather evidence in connection with the lawsuit.
The situation has touched a nerve among religious conservatives already anxious about the expansion of gay rights in many states. Senator Ted Cruz of Texas, another potential 2016 Republican presidential candidate, has also been vocal on the issue.
Paul's appearance on the college campus in Iowa was meant to boost the campaign of Rod Blum, a Republican running for the U.S. House in the state's 1st Congressional District.
"I think we are going to do pretty well in this election," Paul said of the battle for the U.S. Senate.
Paul, who is working hard to cultivate the youth vote ahead of a possible presidential run, told roughly 200 students and others that he wants to fight for their freedom.
"I'm concerned for your freedom, not only your economic liberty, but your personal liberty," he said.

Robert Pedersen, 25, a pre-med student who attended, said he is leaning toward backing Paul in the caucuses, if he runs. He said backed Paul's father, former Representative Ron Paul, in the 2012 caucuses.
"If Rand Paul can show me the same consistency as his father, but with some ideas that would make him more electable, that could make him a very attractive candidate," Pedersen said.
Paul, who has visited more than 30 states to campaign for other candidates in the midterm elections, is scheduled to appear at two events Wednesday evening with Joni Ernst, the Republican Senate nominee in Iowa.