P&G Says North American Head Healey to Retire
Lauren Coleman-Lochner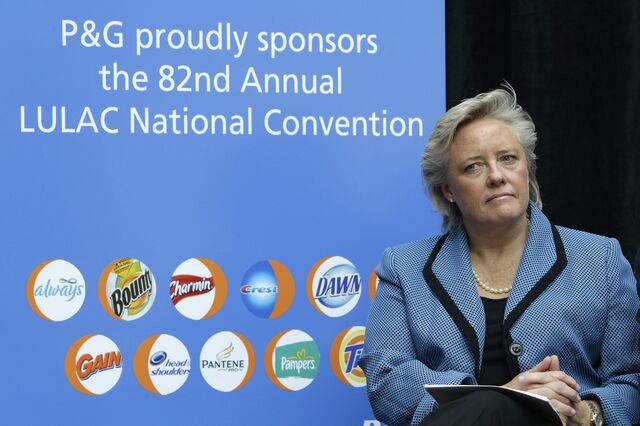 Procter & Gamble Co. executive Melanie Healey, seen as a potential successor to Chief Executive Officer A.G. Lafley, plans to step down in June.
Healey, currently president for North America, will retire after 24 years at the company, Paul Fox, a spokesman, said in an e-mail. Healey, one of the top-ranking women at Cincinnati-based P&G, will be replaced by Carolyn Tastad. Tastad, like Healey, will report to Lafley.
Shortly after returning as CEO last year, Lafley reorganized the world's largest consumer-products maker into four industry-based units and has since worked to cut costs and sell non-core businesses. The maker of Tide detergent and Pampers diapers has struggled to reignite demand in its more-profitable developed markets, where consumer spending remains muted.
"We are putting the leadership team together for a more streamlined and focused P&G," Fox said.
Healey took over the North American unit in 2009, the same year Lafley stepped down from his first term as CEO. She spent much of her tenure in the company's feminine and health-care division, which sells the Tampax and Always brands.
P&G's North America division is its "cash cow," said Jack Russo, an analyst at Edward Jones & Co. in St. Louis.
"The division has done OK," Russo said in a telephone interview. "It's obviously a mature market, a slower-growth market."
He recommends buying the shares.
Tastad Career
Tastad started her career with the company in 1983, joining as a management-systems analyst in Canada. She's held executive positions in P&G's cosmetics, fine fragrances and global prestige units, all profitable categories that P&G hopes to expand.
P&G fell 1.2 percent to $83.23 at the close in New York. The shares have gained 2.2 percent this year, compared with a 5.5 percent advance for the Standard & Poor's 500 Index.
Healey's departure was earlier reported by Dow Jones.
Lafley reconfigured the company last year into global baby, feminine and family care, led by Martin Riant; global beauty, led by Deborah Henretta; global health and grooming, headed by David Taylor; and global fabric and home care, overseen by Giovanni Ciserani. All are considered potential successors to Lafley, as was Healey.
P&G plans to release first-quarter earnings tomorrow.
Before it's here, it's on the Bloomberg Terminal.
LEARN MORE