pursuits
Nike Puts Top Athletes on a Catwalk and Makes Its Play for Women
By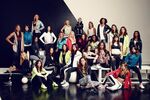 Nike does not make marketing events in size small, and its female-focused media extravaganza in Manhattan on Wednesday morning was no exception.
An Oregon-sized studio space was abuzz with black-clad staffers wearing colorful sneakers and holdings signs to corral journalists on a global scale: "Eastern Europe," "Japan," "Greater China." When the lights dropped, a parade of ridiculously talented female athletes strode down the runway with little sashaying: basketball star Skylar Diggins, world record marathoner Paula Radcliffe, sprinter Shelly-Ann Fraser-Pryce, and boxer Marlen Esparza, to name a few. A space-age terrarium dropped from the ceiling with more finely toned women on display. There were 27 female athletes in all—a Fashion Week-style showcase with much more muscular models.
So what did Nike have to unveil? Not much, in fact. The apparel giant previewed some of its coming spring line and displayed a small batch of items made in collaboration with Brazilian designer Pedro Lourenço. There was no space-age new fabric, no groundbreaking apparel treatment.
Nike pulled a publicity full-court press and called up its roster of all-star ladies from all over the world to make a statement: We will win womenswear. The company now collects about $5 billion a year from women, roughly $18 of every $100 of its revenue dollars. Nike expects to expand its sales to women by 40 percent within the next four years. "There's more opportunity now than ever before," Nike Chief Executive Officer Marc Parker told the crowd.
Yet Nike is playing a bit of defense on this front. Although the retail giant has long made women's apparel, Under Armour has been much more vocal in courting female consumers of late. What's more, the Baltimore-based brand has focused on women who work out like crazy without score points, a strategy that may resonate with the yoga masses.
Under Armour has signed renowned ballerina Misty Copeland and supermodel Gisele Bundchen to its celebrity sales force. "Someday, women's can be as large, if not bigger, than our men's business," Under Armour CEO Kevin Plank told analysts in July.
Amy Montagne, a vice president and general manager of Nike's women's line, shrugged off a question about ceding market share to Under Armour. "Our competition is ourselves," she said. "And our future is about the potential we have."
Both companies, meanwhile, are getting a strong tailwind from the fashion world. Workout wear has made its way from the gym to hip restaurants and chi-chi streets in a trend dubbed "athleisure." Indeed, many of the bright young things ringing the Nike catwalk this morning—the fashion press, not the Nike staff—were sporting swooshes in various places. "Tights are the new denim," Montagne said.
Of course, there is risk in Nike chasing fashionistas, who tend to be more fickle than athletes. And while working out will never go out of style, it's not a stretch to see a day where the socialite in purple tights becomes a fashion pariah, not a trend-setter. In the meantime, game on.
Before it's here, it's on the Bloomberg Terminal.
LEARN MORE