Kenny G Goes Radical With Hong Kong Protest Cameo
By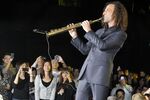 Kenny G has never been a symbol of rebellion. His fellow jazz musicians think of him as a huckster who sells million of records with his rudimentary saxophone noodling. The guitarist Pat Metheny has knocked him for playing out of tune. The pianist Fred Hersch can't stand even to look at him: "He's the only person I've ever seen who is able to smirk while playing the saxophone."
Yet the G, also known as Kenny Gorelick, abides. He has become an ironic celebrity in his homeland, a self-branded dispenser of cloying sounds that many people apparently enjoy. He has had roles in an a Kate Perry video and an Audi commercial in which he portrayed the head of riot suppression at a luxury prison. He can withstand being satirized.
So it was something of a shock on Wednesday, Oct. 22, when Kenny G appeared at a pro-democracy demonstration in Hong Kong. He announced his presence with a tweet that was as simperingly good natured as his saxophone playing:
in Hong Kong at the sight of the demonstration. I wish everyone a peaceful and positive conclusion to this situation pic.twitter.com/mEp5jIXLjj

— Kenny G (@officialkennyg) October 22, 2014
This was actually a radical move for Kenny G. He's enormously popular in China. The South China Morning Post reports his anesthetizing ballad, Going Home, is widely played in mainline China to disperse crowds: "The song is played in shopping malls, train stations, and fitness centres across the country as a signal to the public that it's time to leave."
Naturally, users of social media joked that Kenny G had been dispatched to Hong Kong by the Chinese government, which would like nothing more than to see the demonstrators go home. But Kenny G is no communist tool. A Chinese government official quickly criticized the American star for supporting the demonstrators. "Kenny G's musical works are widely popular in China, but China's position on the illegal Occupy Central activities in Hong Kong is very clear," foreign ministry spokeswoman Hua Chunying told reporters. "We hope that foreign governments and individuals speak and act cautiously and not support the Occupy Central and other illegal activities in any form."
It will be interesting to see what happens the next time Kenny G tries to book a Chinese tour. He may find that Going Home isn't played as widely on the mainland as it is now. So be it. The newly politicized smooth jazzman can always keep the lights on by appearing in more car commercials and pop videos. Pat Metheney can't do that.
His critics in the jazz world also can't draw as much attention to political injustice as the G-Man did on Wednesday. Maybe Occupy Wall Street (or what's left of it) could put him to work in the U.S. But it might be better for G to spend more time practicing his soprano sax. It's not too late for him to learn how to play in tune. That would be really radical.
Update: Kenny G now says, via Twitter, that he was not trying to defy the Chinese government or even wage protest in Hong Kong.
And happened to walk by the protest area as I was walking around Hong Kong as a tourist. Some fans took my picture.

— Kenny G (@officialkennyg) October 22, 2014
It's unfair that I am being used by anyone to say that I am showing support for the demonstrators. I am not supporting the demonstrators

— Kenny G (@officialkennyg) October 22, 2014
I don't really know anything about the situation and my impromptu visit to the site was just part of an innocent walk around Hong Kong

— Kenny G (@officialkennyg) October 22, 2014
Before it's here, it's on the Bloomberg Terminal.
LEARN MORE