IBM Growth Remedy Is Acquisitions, Not Buybacks: Real M&A
Brooke Sutherland and Alex Barinka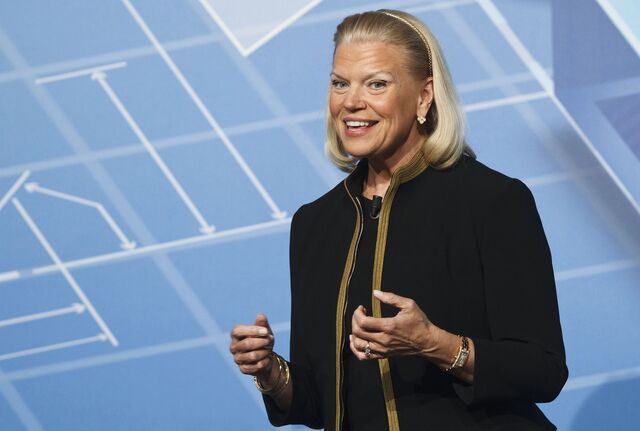 It's time for Big Blue to shift some of its buyback budget to takeovers.
As International Business Machines Corp. braces for its first profit drop since 2002, only about 3 percent of its annual revenue is coming from the cloud-computing technology it's highlighted as the key to a turnaround. Acquisitions could remedy that and would be a better use of cash than share repurchases, said shareholder HighMark Capital Management Inc. IBM already spent more than $100 billion on buybacks in the last decade alone.
After abandoning her predecessor's ambitious earnings roadmap this week, Chief Executive Officer Ginni Rometty has more flexibility to do the acquisitions she needs to keep the $162 billion company relevant in a cloud-computing world. Some of the smartest places to look for deals may be in the Internet security and data-analytics markets. Symantec Corp.'s information-management division or cloud-storage provider Box Inc. are two options, said IDC Corp.
"I would much rather see them acting more like a tech company than someone that's investing in their own stock," Kimberly Forrest, an analyst at Fort Pitt Capital Group Inc., which oversees about $1.6 billion, including shares of IBM, said in a phone interview. "To be intellectually honest in the world of technology, you have to understand that you are not always going to be able to develop. She does talk about these things but we need to see more action."
James Sciales, a representative for Armonk, New York-based IBM, didn't respond to requests for comment on the company's acquisition strategy.
Stock Slump
IBM plunged this week, wiping out about $20 billion in shareholder value, after saying it would abandon a pledge to reach adjusted profit of $20 a share by 2015. The two-day slump was the worst since November 2008 and erased any gains since Rometty took over as CEO in 2012.
Today, IBM fell 0.9 percent to $161.79.
Scrapping the profit forecast set by former CEO Sam Palmisano could have some hidden benefits, though. Rometty has used share buybacks and job cuts as part of her effort to doggedly increase earnings and divert investors' attention away from falling sales. Her time and money may have been better spent on acquisitions, and now she has more leeway for deals, according to Todd Lowenstein of HighMark.
Untethering IBM from the guidance "takes away an anchor around their business," Lowenstein, a fund manager whose firm oversees about $16 billion, including IBM shares, said in a phone interview. "It gives them more freedom to reinvest, to reposition, to restructure and to optimize their asset portfolio for this new paradigm."
While IBM may not be up for a large, transformative purchase, it had $9.6 billion in cash at the end of September, according to data compiled by Bloomberg, and has stable investment-grade credit ratings. It also had $46 billion in debt, thanks in part to buybacks it financed with borrowings.
Cloud Focus
IBM is trying to adapt to an industrywide shift to the cloud, where customers host technology in remote servers instead of onsite. It just hasn't done enough to pivot its business toward that new focus area. Cloud offerings delivered as a service generate annual revenue of about $3 billion, a fraction of IBM's total $100 billion in revenue last year.
"Talking the talk and walking the walk are two separate things," said Daniel Ives, an analyst at FBR & Co.
A takeover of SoftLayer Technologies Inc. in 2013 was a step in the right direction, but investors and analysts want to know what's next, said Crawford Del Prete, chief research officer at Framingham, Massachusetts-based IDC.
"The way you get people excited about this company is you start having more transactional, meaningful wins with a larger swath of customers," Del Prete said. "That probably means you have to add products to the portfolio."
Internet Security
Internet security and data protection technology is one area where IBM should build a stronger presence through acquisitions, said Forrest of Fort Pitt Capital.
"It's more in the buzz-word kind of areas," Forrest said. "The biggest companies on earth are their customers and they are having problems. There has to be some kind of security that doesn't allow the real data to scamper out of the building."
IBM could also buy its way to a greater share of data-analytics and artificial-intelligence markets, Lowenstein said.
"They have a lot of the raw materials to compete there," he said. "They need to look at themselves like venture capitalists right now and look for these bolt-ons where they can get some very compelling technology and basically run it through the IBM distribution channel salesforce, consulting army and have it as a compelling offering to add value to their customers."
Box Appeal
One option is Box. The cloud-storage provider is postponing a planned initial public offering, probably until 2015 because of volatile market conditions, people familiar with the matter said this month. The company raised $150 million in financing earlier this year at a valuation of $2.4 billion.
A takeover like that "would move the needle for IBM in a meaningful way but would keep it core to" the enterprise software it's known for, said Del Prete at IDC. Box targets a wide range of industries, from manufacturing to finance and media, where employees are sharing documents and data on a multitude of devices.
Symantec's decision this month to split itself in two may create another acquisition opportunity for IBM. The $16 billion company's data-storage division is an "interesting asset" that IBM could try to revamp through the power of its salesforce, Del Prete said.
Representatives for Mountain View, California-based Symantec and Los Altos, California-based Box declined to comment.
Breakup Option
Symantec is just the latest in a wave of technology company breakups this year. Hewlett-Packard Co. is splitting up and EBay Inc. is spinning off PayPal. EMC Corp. is exploring strategic options including a full or partial sale, or spinoff of VMware Inc., people familiar with the discussions have said.
IBM could go that route instead. The company has essentially been pursuing a slow-moving breakup for the last decade, divesting assets such as its PC business and low-end server unit, which were both sold to Lenovo Group Ltd. This week, IBM agreed to pay Globalfoundries Inc. $1.5 billion to take its money-losing chip-manufacturing division. The next step may be to consider a breakup that would have more impact.
Whether it splits in two or makes an acquisition, IBM needs to do something to get investors excited about the stock again. Michael Holland, chairman of Holland & Co., said he recently sold his IBM shares.
Management and "the board have to figure out what is the right path," Holland, whose firm oversees more than $4 billion, said in a phone interview. "I'm disappointed and I hope they do get their act together. I'd like to be a shareholder again but not where they are right now."
Before it's here, it's on the Bloomberg Terminal.
LEARN MORE