How the CDC Plans to Catch the Next U.S. Ebola Case
By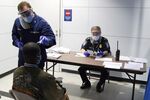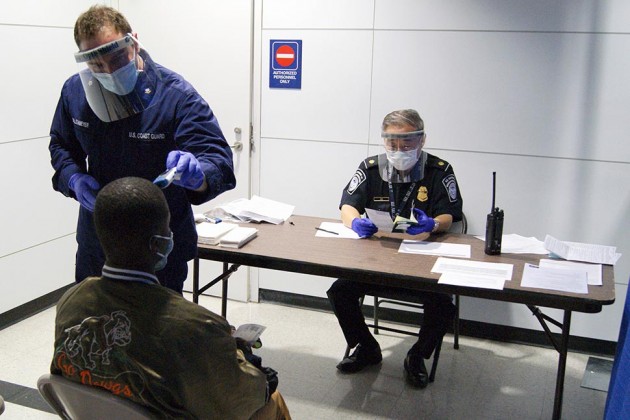 People arriving in the U.S. from Ebola-affected countries in West Africa will be actively monitored for symptoms for 21 days after they land. The new monitoring regime announced by Centers for Disease Control Director Tom Frieden on Wednesday is similar to the approach Nigeria used to contain an outbreak.
The protocols, Frieden said, would have more rapidly identified the Ebola symptoms of Thomas Eric Duncan, a Liberian man who was misdiagnosed during an initial visit to a Dallas hospital and eventually died. If the new CDC monitoring rules had been in place at the time, Frieden said, it "would have in all likelihood resulted in that first emergency department visit not resulting in [Duncan] being sent back home."
The roughly 150 daily travelers coming to the U.S. from Guinea, Liberia, and Sierra Leone are already screened when they board their flights and when they land. Now, at customs, those travelers will receive "care kits" from the CDC containing thermometers, instructions for taking and recording their temperatures in a log book, and a "distinctively colored card" that can be presented to health-care providers if symptoms develop.
Many of the returning travelers are journalists or health-care workers, including CDC staff. Frieden said most are U.S. citizens or long-term residents. Local and state health authorities will be responsible for staying in contact with the returning travelers on a daily basis. Exactly how the travelers will check in with local officials is still being worked out and may vary by state. Frieden mentioned video chats via Skype or Apple's Facetime as potential methods to reach those being monitored, along with the possibility of face-to-face interviews. Such employers as the CDC will be able to monitor their own staff.
With 150 passengers a day being tracked for three weeks, Frieden said about 3,000 people will be under active daily monitoring when the program is fully running. It will begin on Monday in six states—New York, New Jersey, Pennsylvania, Maryland, Virginia, and Georgia—that account for 70 percent of in-bound travelers from the affected countries.
"If a traveler doesn't report in, the state or local public health official will take immediate steps to find the person and ensure that active monitoring continues on a daily basis," Frieden said. The arriving people already have to give border authorities extensive information about how they can be reached—multiple e-mail addresses, phone numbers, and contact information for a friend or relative. Getting appropriate care quickly, Frieden said, will increase their chances of survival and reduce risk that they'll expose others.
Monitoring for any individual traveler will end after 21 days—the maximum time from initial exposure to the Ebola virus that it takes for symptoms to manifest. The new policy will last indefinitely. "Until the outbreak is over, we anticipate this continuing," Frieden said.
The approach will pick up people with unrelated illnesses such as flu. "We expect there to be a steady stream of people with some symptoms who are found not to have Ebola. That's an example of the system working," Frieden said.
U.S. public health authorities have opposed the travel bans sought by some politicians, arguing that bans would impede aid groups and the CDC's efforts to help control Ebola in West Africa. The stricter monitoring—combined with new policies that funnel all travelers from the affected countries to airports at which they can be screened on arrival—addresses concerns about the risk of importing additional cases while stopping short of a travel ban.
Meanwhile, none of the people Duncan had contact with before he was hospitalized has developed symptoms after 21 days, and today is the final day of monitoring for caregivers who attended him during the highest-risk period—after he was admitted and before the diagnosis was confirmed. Two nurses who contracted Ebola during his care remain hospitalized. The condition of one, Nina Pham, was upgraded from "fair" to "good" on Tuesday at the NIH Clinical Center.
Before it's here, it's on the Bloomberg Terminal.
LEARN MORE