DSCC Goes Back Up For Grimes In Kentucky
Turns out it was a bit too soon to say national Democrats were giving up in the Bluegrass State.
By and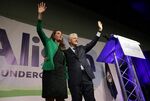 Turns out it was a bit too soon to say national Democrats were giving up on Kentucky Senate candidate Alison Lundergan Grimes. The Democratic Senatorial Campaign Committee is going back on air with a $650,000 television ad buy to close out the campaign, according to a DSCC official. 
The DSCC's decision reflects recent polling, which has shown positive movement in Grimes's direction in her campaign against Senator Mitch McConnell, the official said. McConnell, a five-term incumbent, is poised to take the position of Senate Majority Leader should Republicans flip a net of six or more seats on Election Day. 
For Grimes, the added air time cover comes as the committee continues to spend on the ground to turn out voters and on the same day President Bill Clinton made another stop in the state to rally supporters. While it's always hard to gauge whether the new buy will make a major difference, the race has always stayed tight, even as public polling has shown McConnell with a small lead. In this week's Bluegrass Poll, the statewide survey conducted by The Courier-Journal, WHAS-TV, The Lexington Herald-Leader and WKYT-TV, McConnell held a one point lead, well within the poll's margin of error. The Real Clear Politics poll average has McConnell sitting with about a four point advantage.