Did Chris Christie Just Subtweet Rand Paul?
Chris Christie wants politicians to be "responsible and cautious" when they talk about Ebola.
By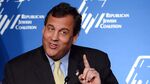 While sensibly addressing the Ebola hysteria in the country on Wednesday, New Jersey Governor Chris Christie may have slipped in a thinly veiled subtweet of his rival, Senator Rand Paul. 
After reminding his followers that there are no Ebola cases in New Jersey, Christie blamed the media attention for creating the panic and "people in public office" for adding to it. He tweeted:
Christie also sought to differentiate himself from those people. In case he wasn't clear, he tweeted:
For the uninitiated, a subtweet is a tweet that refers to someone without mentioning them explicitly. It's a way to trash talk someone to your 463,000 (in Christie's case) followers, but with enough subtlety that it may not come back to haunt you later. 
Still, Paul is very likely Christie's target. In recent weeks, the Kentucky Senator has generated headlines by speculating about a ship full of U.S. soldier stricken with Ebola and argued that the White House has said Ebola is transmitted like AIDS. He has also advocated for a travel ban, despite arguments from public health officials against one. His father, who is usually the Paul accused of being irrational, told NewsMax on Monday that "I would say a travel ban is politically motivated more than something done for medical purposes."
Subtweets between Christie and Paul would hardly be surprising. The two prospective presidential candidates have engaged in an on-again-off-again feud since at least last July, when Christie called the libertarian strain of foreign policy—Paul included—a "very dangerous thought." In February, Paul responded to a question about Bridgegate by saying people shouldn't feel like their government will bully them, and referencing President Obama's IRS scandal.
Paul has also hinted at Christie's weight more than once. He suggested they could make amends over a fried twinkie summit and once called Christie the "king of bacon" (while accusing the New Jersey governor of excessive pork barrel spending). 
Add to that the fact that Paul has overshadowed Christie as a possible 2016 presidential candidate, and it seems pretty clear who Christie had in mind. Several people seem to think so.
Of course, Christie could have simply meant "people in public office" collectively. There's a long list of elected officials he could be referring to, including Georgia Governor Nathan Deal, who mistakenly said that Ebola can be cured with water, Representative Cory Gardner, who said that the Centers for Disease Control wasted its money on jazzercise instead of vaccines, or any of the several Democrats who have bowed to political pressure to support a travel ban. And though he's not currently in public office, Scott Brown has raised eyebrows for implying that Ebola infected individuals would start crossing the southern border into the U.S.
The real question isn't whether Christie would subtweet Paul, it's whether he thinks Paul's comments have been less "responsible or cautious" than the rest of our elected officials.