Did Chris Christie Just Subtweet Rand Paul?
Chris Christie wants politicians to be "responsible and cautious" when they talk about Ebola.
By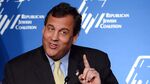 While sensibly addressing the Ebola hysteria in the country on Wednesday, New Jersey Governor Chris Christie may have slipped in a thinly veiled subtweet of his rival, Senator Rand Paul.