Can a Firm's Partners Also Be Its Employees?
By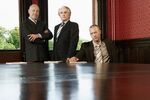 The accountants lobby is pushing back against the Equal Employment Opportunity Commission's recent age-discrimination investigations, which include a review of mandatory retirement rules at the consulting firm Deloitte. The dispute turns on the definition of who counts as an employee under the law.
This isn't the EEOC's only recent investigation into retirement rules. In 2012, the law firm Kelley Drye agreed not to force out partners when they turned 70, resolving a lawsuit brought by the EEOC. Now that attention has turned to accountants, the American Institute of CPAs sent a letter on Monday calling on the EEOC to end these investigations.
The accountants lobby is making a rather counterintuitive argument: Partners by definition aren't "employees," so the EEOC shouldn't concern itself with whether firms require them to retire. Partners at accounting firms "control their own work and own and control a portion of their firms," AICPA President Barry Melancon wrote, and so they don't qualify for the same anti-discrimination protections. The letter also argues that retirement rules "allow for the predictable progression of lesser tenured, and often more diverse, individuals into the partnership." In other words, protecting old white guys from forced retirement will leave the ranks of partners less diverse.
Who counts as an employee is a contentious issue. In recent months the National Labor Relations Board's top prosecutor has rejected McDonald's assertion that it isn't the boss of franchisee fast-food workers, while the Ninth Circuit Court of Appeals and the Kansas Supreme Court both declared FedEx Ground drivers to be employees of the company.
An EEOC spokesperson says the agency is still reviewing the AICPA letter and "cannot speak publicly about our administrative process." But in informal discussion letters responding to public inquiries last year, an attorney in EEOC's Office of Legal Counsel noted that the agency looks at more than titles in deciding whether workers called "partners" are actually employees of the firm.
"The relevant question in each case is whether the individual acts independently and participates in managing the organization (not an employee), or whether the individual is subject to the organization's control (an employee)," EEOC attorney Peggy Mastroianni wrote. She listed six questions the EEOC considers, including whether the partner reports to someone higher up at the firm and whether the partner shares in its profit and loss. Mastroianni said that approach was backed by the Supreme Court, including a decision from 2003. "Today," the high court noted, "there are partnerships that include hundreds of members, some of whom may well qualify as 'employees' because control is concentrated in a small number of managing partners."
Before it's here, it's on the Bloomberg Terminal.
LEARN MORE