Brazil Conundrum: Rally or Rout Awaits Currency Traders
Filipe Pacheco and Paula Sambo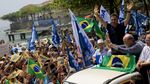 Brazil's too-close-to-call presidential election has investors and analysts predicting moves in the local currency that range from a 12 percent rally against the dollar to a 15 percent tumble after the vote.
That helps explain why one-month implied volatility on options for the real, reflecting projected shifts in the currency, is the highest among developing countries at 22.5 percent as the Oct. 26 runoff between President Dilma Rousseff and opposition candidate Aecio Neves approaches.
While Neves pledges to slow inflation and revive the economy, the incumbent says her opponent's policies threaten improvements she has achieved in the labor force and social welfare. The real has dropped 10 percent in the past three months to 2.4739 per dollar.
Here are five predictions from investors and analysts:
* Bianca Taylor, a Boston-based senior sovereign analyst and strategist at Loomis Sayles & Co., which oversees $223.2 billion in global assets, said Oct. 21 that the real may rise to about 2.2 per U.S. dollar by year-end if Neves wins, implying a gain of 12 percent from yesterday's close. If Rousseff is re-elected, there may be a decline in assets overall, "but nothing major or catastrophic," with the real trading at about 2.6 by year-end, she said.
* Fabio Oliveira, who oversees 17 billion reais ($6.8 billion) in assets at Global Portfolio Strategists in Sao Paulo, with 75 percent allocated in Brazilian securities, expects a Neves win to spur an initial rally before global factors cause the currency to retreat to 2.6 per dollar by year-end. A Rousseff victory would cause the real to trade in a range of 2.8 to 2.9 throughout 2015, he said Oct. 23.
* Paulo Bilyk, chief investment officer at Rio Bravo in Sao Paulo, which oversees 10 billion reais, said Oct. 13 the real would strengthen to 2.2 per dollar if Neves wins, before resuming its depreciation.
* Luis Costa, a strategist at Citigroup Inc. in London, said Oct. 22 the real remains overvalued and the commodity-exporting nation "will need to look for a new equilibrium level" for the currency. Citigroup expects the real will weaken to 2.55 per dollar by the end of next year, according to data compiled by Bloomberg.
* Geoff Dennis and Howard Park, emerging-markets strategists at UBS Securities LLC, wrote in a note published Oct. 23 that investors are positioning themselves for a Rousseff re-election. The real could fall to as low as 2.7 per dollar if she wins, appreciating back to the 2.45 level by year-end.
Before it's here, it's on the Bloomberg Terminal.
LEARN MORE