Slower Australian Inflation Signals RBA to Keep Record-Low Rates
Michael Heath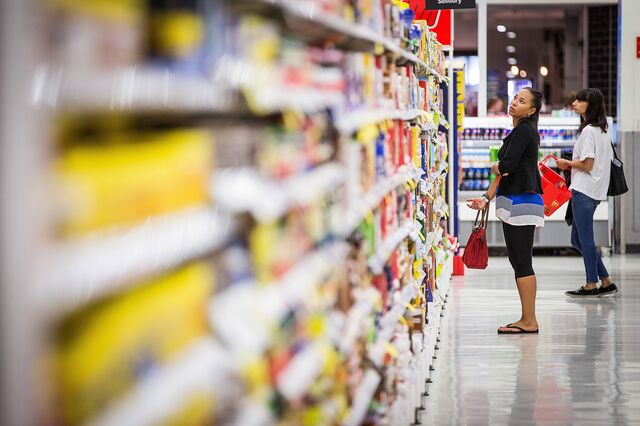 Australia's core inflation slowed last quarter as the removal of a carbon tax cut power bills, giving the central bank scope to keep record-low interest rates.
The trimmed mean gauge of prices rose 0.4 percent from the second quarter, below the median forecast of a 0.5 percent gain and less than a revised 0.7 percent increase three months earlier, government data released in Sydney showed today.
Historically slow wages growth and falling electricity prices provide flexibility for Reserve Bank of Australia Governor Glenn Stevens as he tries to reinvigorate domestic industries and encourage hiring. Policy makers have left rates at 2.5 percent for the past 14 months as they aim to steer a transition in the economy and extend 23 years of growth.
"Whichever way you cut it, inflation is not a threat to the economy and the Reserve Bank will not be feeling any additional pressure to move rates in any direction any time soon," said Savanth Sebastian, an economist at a unit of Commonwealth Bank of Australia. "More focus will be paid to labor market conditions and retail activity in coming months."
The currency was little changed after the data, trading at 87.87 U.S. cents at 1:17 p.m. in Sydney from 87.71 cents prior to the release. The Aussie slumped 7.3 percent last quarter.
Tradables inflation from goods including imported electrical equipment and clothing rose 2 percent, today's report showed. Non-tradables, or domestic inflation for goods and services that aren't imported like fast food and utilities, climbed 2.4 percent from a year earlier, the report showed.
Power, Fuel
The consumer price index advanced 0.5 percent from the second quarter, compared with a 0.4 percent median estimate, today's report showed.
Electricity prices fell 5.1 percent in the third quarter "mainly due to the removal of the carbon price from 1 July," the Bureau of Statistics said in its release. The cost of automotive fuel dropped 2.5 percent in the third quarter, while fruit prices gained 14.7 percent and the costs of new dwelling purchases by owner occupiers climbed 1.1 percent.
The fall in fuel prices reflected a more than 13 percent drop in West Texas Intermediate crude in the third quarter.
Peter Jolly, Sydney-based head of research for National Australia Bank Ltd., said before the release that his colleagues estimated the carbon tax shaved 0.2 percentage point off headline inflation and up to 0.1 point off underlying inflation. They correctly predicted the quarterly drop in power prices.
2%-3% Target
Today's report showed the weighted-median gauge of inflation, a second core measure that excludes the largest price increases and declines, advanced 0.6 percent in the third quarter, compared with the estimate for a 0.5 percent gain.
On an annual basis, the trimmed mean gauge advanced 2.5 percent, compared with economists' forecasts for a 2.7 percent gain. The weighted median increased 2.6 percent, matching estimates, today's report showed.
The central bank aims for inflation of between 2 percent and 3 percent on average. The CPI climbed 2.3 percent in the third quarter from a year earlier, also matching economists' forecasts.
Australia is a developed world rarity in that it has a normal interest rate level, compared with the U.S., euro zone, Japan and the U.K. where benchmarks are near zero.
Global Deflation Risk
"With the focus on global growth downgrades, deflation risks and the associated lift in financial market volatility, today's Australian CPI readings should remind markets and commentators that Australia is different," said Michael Blythe, chief economist in Sydney at Commonwealth Bank, the nation's biggest lender. "Rates here are a long way from zero, growth rates are a long way from recession, and deflation does not appear to be a serious risk.'"
Woolworths Ltd., whose eponymous supermarket chain is Australia's largest retail brand by revenue, said in its annual report last month that price deflation continued this year.
"Customers continued to benefit from lower average prices," it said Sept. 22, citing deflation of 3.1 percent in the 2014 financial year, compared with 2.9 percent in 2013.
The RBA is trying to rebalance the economy away from mining regions in the north and west as investment wanes, and stimulate growth in manufacturing, residential construction and retail in the south and east. It says the nation's currency hasn't fallen far enough to aid the rebalancing of growth.
Lower inflation "certainly supports their case to keep monetary policy steady," said Matthew Circosta, an economist at Moody's Analytics in Sydney. "There are other factors that they're going to have to take into account when they're setting policy and that's the currency and the global risks that are playing out, but the bias is certainly toward monetary easing.'
Before it's here, it's on the Bloomberg Terminal.
LEARN MORE