Anxiety, Fear and Pessimism Shade Female Swing Voter Views
"Stagnant," "awful," "declining," "shaky." Anxious voters see a country that's falling apart — and that's (probably) bad news for Democrats.
By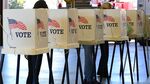 "The U.S. is in the crapper and it's going to stay that way," says Tanya, a Louisiana mother participating in a focus group two weeks before the midterm elections. Her sentiments reflect a national mood as voters fearfully take stock of a country that they believe is besieged by bad news and plagued by politicians unwilling to cope with those challenges.
Two focus groups of middle-income, swing women voters held Monday night in Charlotte and New Orleans revealed a political landscape shaped by anxiety and fear, and a pessimistic electorate searching for change but unhappy with their choices. 
In video of the panels, this was clear: Ebola has replaced the Islamic State militants as a top concern — despite reports that the disease is being contained outside of West Africa. Some participants said they were worried about flying and are considering keeping their children home from school. Even among those who said they were not personally worried, they agreed that response from the federal government was "lax" and "not proactive."
"That Ebola's scary," said Tanya, a mother of two girls in Louisiana. "I mean, it's just a state away."
"They're not doing a good job of containing it," added Edith. "They don't really have anything to help. There's no vaccine."
"I don't know if they don't know everything about it or they're not telling us," said Rachelle. "At first they said you can't catch it all these ways but people still are."
The "Wal-Mart Moms," a focus group of women with children at home who shop at Wal-Mart (which underwrites the panel) aren't a perfect indicator of trends, but they give a good hint. Participants in the monthly groups have sided with the winner in the last three national elections, according to the bipartisan group of pollsters who conduct the panels.
A polling team from Republican firm Public Opinion Strategies  and Democratic firm Momentum Analysis narrowed in on the group as an important, persuadable voting bloc. They've tracked the group's views on candidates, politics, and the national mood since 2010.
This year, their feeling is likely to benefit Republicans — anxiety and crisis rarely helps parties in power — though the voters doubted either party had a solution.
Recent polling supports the idea of an anxious and worried electorate, and Republicans hope to capitalize on that feeling as they try to turn the midterm elections into a referendum on the president and his policies. In the panel, the women were split on their opinions of President Barack Obama. Some stood by him, blaming the Republicans for what they described as his inability to improve the country. Others were disappointed — one used the word "betrayed" — saying they'd vote differently now.
But mostly, they're disgusted with both parties — to the point where they try to tune out the news. Politicians are "selfish" and just care about "getting their children into an Ivy League school." One admitted that she would rather watch "Doc McStuffins," a show on the Disney Junior network, than watch the news. 
"I don't watch the news. There's no good news," said Jen, in Charlotte. "The big picture, I've just kind of disconnected."
The only congressional leader they could name without help was House Minority Leader Nancy Pelosi. "Is she part of the Republican Party?" one asked. Senate leaders Mitch McConnell and Harry Reid had no name recognition.
Despite verging on becoming the most expensive Senate race in history, few of the participants in the North Carolina panel could recall much information about either candidate. In Louisiana, the women were better able to identify Democratic candidate Mary Landrieu, perhaps in part because her brother, Mitch, is mayor of New Orleans. And they could identify some of her arguments along with those of her leading Republican opponent, Representative Bill Cassidy.
But that didn't mean that they were excited about either candidate. Landrieu doesn't deserve to win, a few women agreed, particularly given reports that her main residence was in Washington, D.C. But Cassidy, they said, didn't either. Three women said they'd vote for Landrieu and none backed Cassidy. A few said they'd back Cassidy if the race went to a run-off.
"I'm not going to vote at all," said Elyssa. 
"Can't we get someone else?" asked Tara.