Anxiety, Fear and Pessimism Shade Female Swing Voter Views
"Stagnant," "awful," "declining," "shaky." Anxious voters see a country that's falling apart — and that's (probably) bad news for Democrats.
By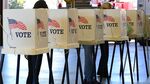 "The U.S. is in the crapper and it's going to stay that way," says Tanya, a Louisiana mother participating in a focus group two weeks before the midterm elections. Her sentiments reflect a national mood as voters fearfully take stock of a country that they believe is besieged by bad news and plagued by politicians unwilling to cope with those challenges.