Zuckerberg Seeks Revenge on Lawyers Who Sued Facebook
Paul M. Barrett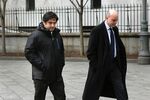 Attention, attorneys. If you go to court for a client seeking to shake down Mark Zuckerberg, you may find yourselves in the Facebook mogul's cross hairs. Ask DLA Piper, one of the world's largest law firms and now a defendant in a civil malicious prosecution suit filed by the Facebook chief executive officer and his company.
No, this isn't the Social Network case. That entertaining 2010 movie depicted Zuckerberg's legal tussle with the strapping Winklevoss twins, Tyler and Cameron, over who invented Facebook. That case settled in 2008 with the Winklevi receiving tens of millions of dollars in cash and Facebook stock—pocket change to the billionaire Zuckerberg.
Social Network apparently gave another character, one Paul Ceglia, the bright idea that he, too, could claim ownership of Facebook. In 2010, he sued Zuckerberg in New York state court, alleging that the digital tycoon had once promised him no less than 84 percent of the company that became the hugely popular and lucrative social networking site.
Eighty-four percent! You can't fault Ceglia for lack of ambition. His suit, however, was a transparent sham based on forged documents, according to the federal judge who eventually disposed of it in March of this year. The judge based dismissal on earlier findings by a U.S. magistrate who described Ceglia's arguments as "sophomoric" and "preposterous." Along the way, Ceglia was criminally indicted in 2012 for seeking to defraud Zuckerberg and Facebook. The criminal charges are pending.
Not satisfied that Ceglia has been thoroughly defeated and discredited, Zuckerberg has now sued most of the law firms and individual lawyers who, at one time or another, represented Ceglia in his misbegotten grab for Facebook lucre. The most notable of these defendants is DLA Piper, a behemoth with 4,200 lawyers in 30 countries. Normally the Piper firm represents large corporations such as Facebook; in this instance, it took a spin with Ceglia that it may now deeply regret.
Ceglia brought a dubious résumé to his relationship with Piper. The Facebook suit against the law firm alleges that his track record includes a 1997 guilty plea on felony drug charges, a 2005 arrest in Florida for trespass (while trying to sell property in a private orange grove that he didn't own), and a 2009 arrest and charge of consumer fraud in New York state.
Piper's entry into the case in 2011 gave Ceglia's Facebook allegations credibility they wouldn't otherwise have had. A partner from the well-known law firm told multiple media outlets, including the Wall Street Journal and New York Times, that Piper had investigated Ceglia's claims and found them legitimate. Bloomberg News noted in April 2011 that Ceglia's legal forces included "a team of lawyers from DLA Piper, one of the world's biggest law firms."
About three months later, DLA Piper withdrew from the case, declining to explain its action publicly. Other attorneys pursued the matter on Ceglia's behalf, ultimately leading to his indictment and dismissal of his civil suit.
Now Zuckerberg wants to punish DLA Piper, among others, for ever having vouched for Ceglia. "The lawyers representing Ceglia knew or should have known that the lawsuit was a fraud—it was brought by a convicted felon with a history of fraudulent scams, and it was based on an implausible story and obviously forged documents," the Zuckerberg suit alleges. "Despite all this, [Piper] vigorously pursued the case in state and federal courts and in the media."
In a statement, DLA Piper called the suit meritless and stressed that the firm's involvement in the Ceglia case lasted only 78 days. "This is an entirely baseless lawsuit that has been filed as a tactic to intimidate lawyers from bringing litigation against Facebook," said the firm's general counsel, Peter Pantaleo, according to the Times' Bits blog. Facebook and Zuckerberg are seeking unspecified damages not only from Piper, but also from Ceglia's original lawyer, Paul Argentieri, and lawyers at the firms Milberg and Lippes Mathias Wexler Friedman. One of the attorneys named as a defendant is Dennis Vacco, a former New York state attorney general.
Ceglia, by the way, has appealed the March dismissal of his civil suit against Zuckerberg. No word yet on who, if anyone, will represent him on appeal.
Before it's here, it's on the Bloomberg Terminal.
LEARN MORE