U.K. Adds Syria Surveillance to Islamic State Campaign
Thomas Penny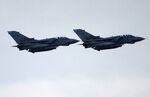 The U.K. will carry out manned and unmanned surveillance flights over Syria in an extension of its involvement in the fight against Islamic State extremists.
Royal Air Force jets are already carrying out airstrikes on Islamic State forces in Iraq after a vote in Parliament on Sept. 26 that authorized the attacks while ruling out bombing raids on Syria. Reaper drones and Rivet surveillance aircraft will be used over Syria, Defence Secretary Michael Fallon said.
"As well as their operations over Iraq, both Reapers and Rivet Joint surveillance aircraft will be authorized to fly surveillance missions over Syria to gather intelligence as part of our efforts to protect our national security from the terrorist threat emanating from there," Fallon said in a written statement to Parliament in London today. "Reapers are not authorized to use weapons in Syria; that would require further permission."
The motion approving action in Iraq, which lawmakers backed by 524 votes to 43, ruled out attacks on Syria after the opposition Labour Party objected because it was unclear which ground forces the strikes would be supporting.
Ministers are "clear about what we're using these assets to do," Prime Minister David Cameron's spokeswoman, Helen Bower, told reporters in London. "That is enhance our capability to gather intelligence and to protect Britain from threats emanating in Syria. The government is very clear that we would return to Parliament if we decided to take military action, but this is about intelligence gathering."
The U.S. has stepped up its efforts to fend off the Islamic State advance on Kobani, near Syria's border with Turkey, which began last month. The U.S. has sent weapons, ammunition and medical supplies to the defenders and switched the focus of its aerial bombing campaign to militants around Kobani rather than Iraq and other parts of Syria.
Before it's here, it's on the Bloomberg Terminal.
LEARN MORE