Triple Whammy Looms for China's Oil Refiners as Crude Plunges
Rakteem Katakey and Aibing Guo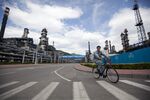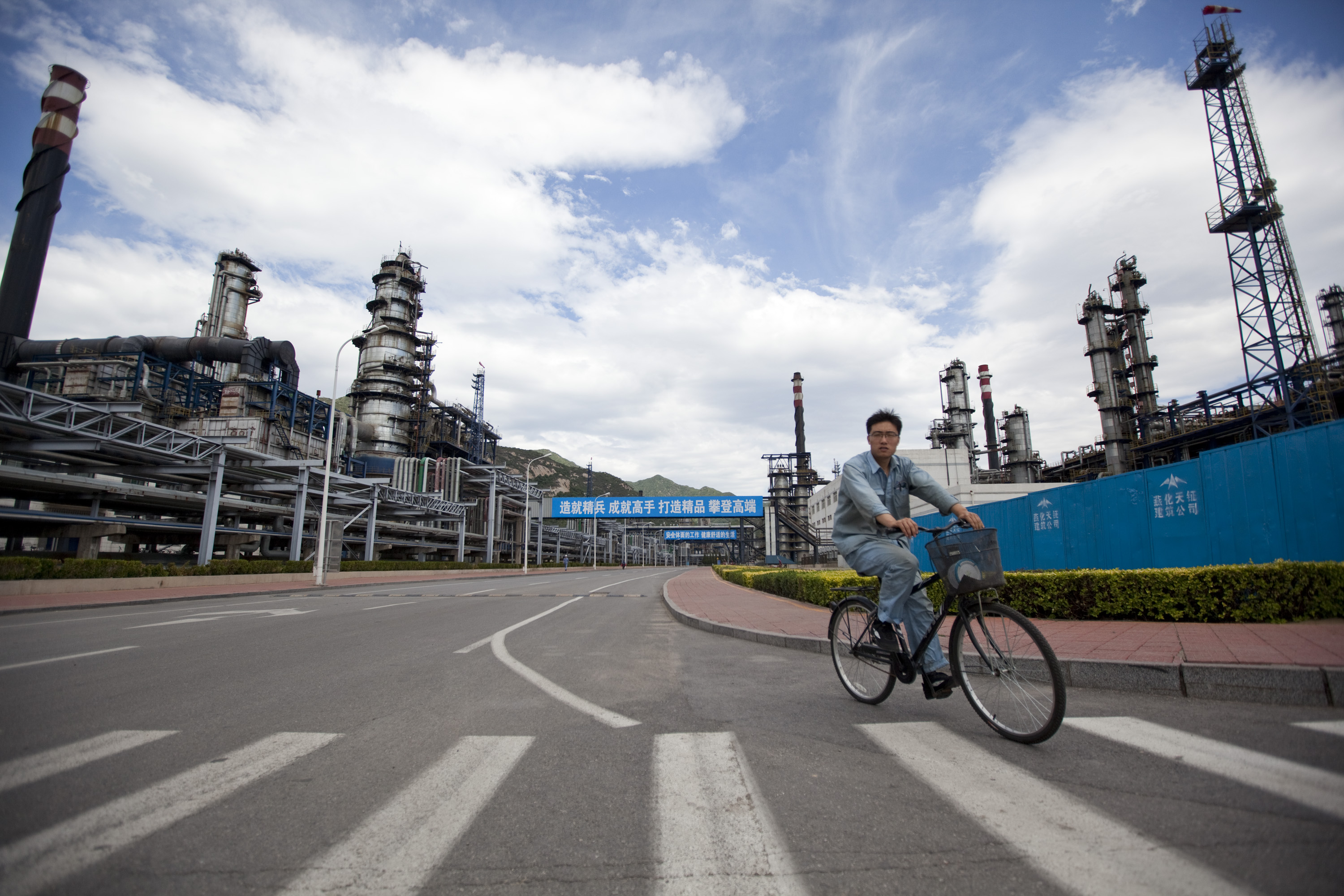 Crude oil's steepest crash in almost six years is throwing up a new challenge for China's refiners -- a plunge in the value of their stockpiles.
The oil price drop is adding up to a triple whammy for earnings prospects through the end of the year, for companies already beset by slowing economic growth and state controls on prices. UOB Kay Hian Ltd. yesterday downgraded China's oil sector to underweight from overweight, citing weaker demand forecasts and the lower oil price.
"Refiners' earnings will be impacted and the main reason for that is inventory losses," said Duke Suttikulpanich, a Singapore-based oil and gas analyst at Standard Chartered Bank. "Contrary to common belief, the sharp drop in oil price does not benefit refiners' earnings. And low demand forecasts mean margins aren't expanding."
A fall in crude prices, the raw material used to produce fuels including gasoline and diesel, should typically reduce expenditure and raise profits for refiners. However, weak demand is driving down fuel prices and narrowing those margins. At the same time, the lower oil price is cutting the value of stockpiles accumulated when the market was higher.
China Petroleum & Chemical Corp., Asia's biggest refiner, made about 9 percent of its revenue in the six months ended June 30 from processing crude oil. PetroChina Co., the country's biggest oil and gas producer, had almost 8 percent of sales from refining.
Along with Cnooc Ltd., the two companies are China's biggest oil producers and their upstream operations are getting hit by the plunge in crude. They are now set to lag regional rivals in the battle to make money from refining as well.
Checking Inflation
Some of the biggest refiners in Asia's most populous nations -- China, India and Indonesia -- are state run and have served government policy by capping the retail price of the oil they process. While that has kept inflation in check and fuel affordable for citizens, it has also crimped earnings.
That mandate was upended in India over the weekend, after Prime Minister Narendra Modi took advantage of crude's slump to free diesel pricing from government control for the first time in a decade.
Refiner Hindustan Petroleum Ltd. surged 7.4 percent in Mumbai yesterday, the steepest increase since May 16. Indian Oil Corp., the nation's biggest refiner, gained 3.8 percent and Bharat Petroleum Corp. 4.5 percent.
In Asia's third-most populous nation, Indonesia, new President Joko Widodo has pledged to raise fuel prices to help cut fuel subsidies. The country is competing with India and China to woo investors by curbing petroleum subsidies.
Missed Profit
China National Petroleum Corp., PetroChina's parent, said last week it would have difficulty in meeting its profit targets this year because of crude oil's slump, citing high stockpiles. It said it expects oil prices to decline further this quarter.
Qu Guangxue, CNPC's Beijing-based spokesman, and PetroChina's Mao Zefeng didn't answer two calls to their respective offices yesterday. A Beijing-based spokesman for China Petroleum, known as Sinopec, didn't answer two calls to his office.
PetroChina shares have dropped 2.8 percent from June 19, around the time Brent began to fall from a yearly high of $115.06 a barrel. Sinopec shares have declined 12 percent.
CNPC's call on oil prices is echoed by Nomura International Hong Kong Ltd. and UOB Kay Hian. Nomura said last week that U.S.-traded crude has the potential to drop below $70 a barrel by the end of the year if OPEC fails to reduce supply. The group is scheduled to meet Nov. 27 in Vienna to discuss production and price levels.
Margins Threatened
West Texas Intermediate prices in New York, a U.S. benchmark, have dropped 15 percent this year as the nation increases oil output from shale rocks. The November contract was at $82.75 a barrel in electronic trading on the New York Mercantile Exchange, up 0.1 percent.
Falling prices could "crush Asian refiners' margins" if demand for oil remains weak, Gordon Kwan, Nomura's Hong Kong-based head of regional oil and gas research, said Oct. 17.
UOB's Hong Kong-based analyst Yan Shi downgraded PetroChina's stock to sell from buy and its target price to HK$7 from HK$11.60. She maintained Sinopec at hold and cut its target price 11 percent to HK$6.60.
Analysts are now the most bearish on PetroChina's shares since February this year, and the most in more than two years on Sinopec, according to data compiled by Bloomberg. The consensus rating, or the average of recommendations updated by analysts in the past year, has dropped to 3.88 for PetroChina and 3.71 for Sinopec. Five denotes a buy and one a sell.
Weak Demand
Brent crude in London, a benchmark for more than half the world's oil, has lost about a quarter of its value since the summer, the biggest four-month slump since 2008, when the financial meltdown drove it below $40 a barrel. The price of Brent was at $85.24 a barrel as of 8:20 a.m. Hong Kong time after dropping to $83.78 on Oct. 15.
Oil demand growth in China, the world's second biggest consumer, is expected this year to be the weakest since 1990 as economic growth slows, Sanford C. Bernstein analyst Oswald Clint wrote in a report last week.
To boost margins, refiners need to see crude oil prices stabilize at these levels and demand to strengthen, StanChart's Suttikulpanich said.
Brent crude will trade at $104 a barrel in the first quarter of 2015 and $102 the next quarter, according to the median estimate of 25 analyst estimate compiled by Bloomberg.
Lower demand is narrowing margins across Asia. Profit from making diesel in Singapore, a regional benchmark, has averaged $14.27 a barrel this month, compared with $16.53 a barrel in October last year and $18.20 a barrel in January 2014, according to data from PVM Oil Associates Ltd. in London.
"There isn't any sign of demand recovery in Asia, with China continuing to be weak.," said Dhaval Joshi, an oil analyst at Emkay Global Financial Services Ltd. in Mumbai. "It will take its toll on margins."
Before it's here, it's on the Bloomberg Terminal.
LEARN MORE