Travelers From Ebola Region to Be Directed to 5 Air Hubs
Mark Drajem and James Nash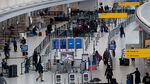 Passengers arriving in the U.S. from three West African nations with an outbreak of Ebola will be directed to enter through the five airports where federal agents are conducting enhanced health screenings.
The few travelers who don't already connect through Atlanta, Chicago, Newark, New York and Washington will be forced to take flights that stop in those cities, according to a Department of Homeland Security statement today. The new procedures become effective tomorrow.
"We currently have in place measures to identify and screen anyone at all land, sea and air ports of entry into the United States who we have reason to believe has been present in Liberia, Sierra Leone or Guinea in the preceding 21 days," Secretary Jeh Johnson said in the statement.
The administration is trying to quell criticism of its handling of Ebola after a patient in Texas died Oct. 8 and two nurses who cared for him were infected with the disease. The virus has killed more than 4,500 people, mostly in Liberia, Sierra Leone and Guinea. Some U.S. lawmakers have called for a ban on travelers from three nations, a move that President Barack Obama has said would be counterproductive.
Louisiana Screening
Louisiana Governor Bobby Jindal separately ordered health authorities to begin tracking state workers and university students and employees traveling to countries stricken by the Ebola virus.
Jindal, a Republican who's criticized the Obama administration's response, said his executive order yesterday set "precautionary, common-sense measures."
While the Louisiana directive doesn't forbid travel to or from countries fighting Ebola, it requires the state to set policies and mechanisms for public workers and college students and employees to notify health officials of travel to affected areas.
After Thomas Eric Duncan from Liberia became the first confirmed Ebola case in the U.S., some lawmakers urged tighter controls. House Speaker John Boehner, an Ohio Republican, said the risk of an outbreak means a temporary ban on passengers from the three nations is necessary.
Spread Deterred
The Obama administration announced Oct. 8 the added screening at five U.S. airports that account for 94 percent of all travelers from the three nations. So far, no arriving passenger has tested positive for Ebola, the agency said today.
Democrats such as Representative John Conyers, a Michigan Democrat, said the Obama administration had taken the right step.
"Ebola-specific screening is a sensible precautionary measure that helps address public concerns and helps deter spreading of the disease," Conyers said in a statement. "Issuing a blanket travel ban would not only be counterproductive, but it would also irresponsibly impede getting much-needed supplies and relief to the countries that need it most."
In an interview with Bloomberg News today in New York City, the chairman of the Senate Homeland Security Committee faulted lawmakers for using political "scare tactics" over Ebola.
'Scare Tactics'
"Some of my colleagues have been shameful in the way, frankly, they've manipulated this for purposes that I think we can all understand," Senator Tom Carper, a Delaware Democrat, said at a Bloomberg News event today in New York. "The way people have just been playing the scare tactics is just, I think, shameful."
The new federal airport-entry requirements probably affects fewer than 10 people who arrive from the three African nations daily, according to government statistics.
About 150 passengers travel from Liberia, Guinea or Sierra Leone to the U.S. daily, less than 0.1 percent of total international passengers. Of those, 94 percent arrive at the five airports where agents are checking for fever and questioning people about possible contacts with Ebola patients.
Since federal agents began enhanced screening, more than 500 passengers had their temperatures taken and filled out questionnaires, according to DHS figures released today.
Of those, 25 were determined to be a risk for contracting the disease and three had a high temperature. Four people from Dulles airport were sent to a local hospital for observation. DHS said no individuals screened so far has tested positive for Ebola.
The five international airports are: John F. Kennedy in New York, Washington Dulles, Newark Liberty, Chicago O'Hare and Atlanta Hartsfield.