Reckitt Benckiser Sees Annual Growth at Low End of Forecast
Tom Beardsworth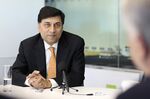 Reckitt Benckiser Group Plc, the maker of Nurofen painkillers and Veet hair-removal creams, said annual sales growth will be at the lower end of the company's range amid slowing markets in southeast Asia and Latin America.
The gain in revenue, excluding its pharmaceutical unit, will be toward the low end of the company's 4 percent to 5 percent forecast, Chief Executive Officer Rakesh Kapoor said in a statement today. Reckitt Benckiser also reported like-for-like growth in the third quarter that missed analyst estimates and said that the planned spinoff of the pharmaceutical division will happen by the end of the year.
"The market will view this as a modest disappointment," said Martin Deboo, an analyst at Jefferies International in London. "They're being hurt by Brazil. That's more of a market issue than a Reckitt-specific issue."
A shrinking economy in Brazil and a slowdown in India are weighing on growth at the maker of Lysol cleaners, which derives about a quarter of sales from its Latin America and Asia Pacific division. Kapoor said the company still forecasts an increase in profit margins for the full year.
Reckitt Benckiser shares fell 2 percent to 5,015 pence at 1:21 p.m. in London, paring their advance for the year to 4.6 percent and giving the maker of Cillit Bang a market value of about 36.2 billion pounds.
Pharmaceutical Spinoff
"Looking ahead, our objective remains to deliver growth which outperforms our markets, although conditions will remain challenging," the CEO said in the statement.
Reckitt Benckiser confirmed in July it would spin off its pharmaceutical unit after concluding that the business that once accounted for a fifth of earnings didn't fit Kapoor's plan to focus on consumer health. The division, which makes a drug to reduce users' dependency on opioids, will be separated by the end of this year and renamed Indivior Plc, it said today. The new name is a fusion of the words individual and endeavor, the Richmond, Virginia-based unit said in a separate statement.
Kapoor is pushing further into consumer health-care through acquisitions and new products. That division has grown from 5 percent of revenue in 2005 to about 30 percent via sales of products including Mucinex cold treatments and Durex condoms.
Third-quarter like-for-like sales, excluding the pharmaceutical unit, rose 3 percent, according to Reckitt Benckiser, which rounds its sales growth to the nearest percentage point. Analysts had forecast 4.1 percent growth.
Before it's here, it's on the Bloomberg Terminal.
LEARN MORE