Obama's Visa Reform Leaves Some Skilled Spouses Behind
By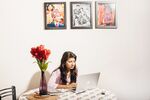 When Vidhi Shah first moved to America, she dreaded shaking anyone's hand. It wasn't the anxiety of making new friends that rattled her. The problem was simpler.
"I didn't know how to introduce myself," says the 29-year-old, who holds degrees in biotechnology and business management and worked at top marketing firms before emigrating from India in 2012. "I would be like, 'Yes, I am so and so," she says, "'and I am the wife of so and so.'"
Shah is one of hundreds of thousands of people who came to the U.S. because their spouse or parent was hired by an American company on an H-1B visa work authorization for immigrants with specialized skills. The husbands and wives of those with H-1B visas are allowed to live in the U.S. Unlike spouses of foreign workers with other types of visas, however, they're not allowed to work until their spouse gets a green card. Because of a backlog in green-card processing, such people—often people with advanced skills—can be left awaiting work authorization for more than a decade.
A proposed change in immigration policy could help some in similar circumstances to Shah pursue work in the U.S., rather than waiting indefinitely in career limbo. In May, the Obama administration proposed a rule that would allow some in the U.S. on spousal papers, known as H-4 visas, to get work authorization. TechNet, the trade group representing Apple, Microsoft, and other tech giants, applauded the proposal, which it said would "help the United States attract and retain the brightest high-skilled workers from around the world."
This month, Obama announced his intention at a town hall in Los Angeles to use executive orders to make the broader H-1b visa process "more efficient, so we can encourage more folks to stay here."
Immigrant advocates have pressured the Obama administration to make the system work better for families of highly skilled immigrants. Activism in support of the rule has grown, with 15,000 people having signed petitions urging Obama to pass the rule. A July letter from the American Immigration Lawyers association on behalf of 13,000 lawyers around the country asks the administration to go farther by expanding the rule to include all H-4 visa holders. The Department of Homeland Security estimates (PDF) that the rule would initially make 100,600 people eligible for work authorization.

News that the rules might change was welcomed by Stuti Dalmia, a 28-year-old who moved to the U.S. last year to be with her husband, an Apple employee in the process of getting his green card. Dalmia, who worked at McKinsey and got her MBA in India, says she couldn't live here without being able to reenter the professional world. "I would not be willing to settle for a homemaker's job," she says. "If this gets implemented, it would be helpful," she said of the new rule in an e-mail. She'll be out of work, however, until and unless it gets passed.
The rule received some criticism when it was proposed, including from Republican Senator Chuck Grassley (R-Iowa), who told the New York Times in May that it ignores the plight of American workers shunned by employers that "prefer to hire lower-paid workers from abroad." Legal experts say the rule's approval, which doesn't depend on Congress, has been stalled, in part, because of how it might affect midterm elections in November.
Even if the rule is approved, it will apply only to those whose spouses are in the late stages of getting a green card or have been granted a visa extension. The law wouldn't help people such as Shah, whose spouses haven't yet been sponsored for permanent residency.
Shah is trying a different approach to working legally: She's getting an MBA. "This is the only valid option that you have," says Shah, who began attending Santa Clara University's Leavey School of Business this year. Her goal is to use the degree to convince an employer to hire her and sponsor an H-1B visa. "You have a more purposeful way to start your day," Shah says. She feels as if she is "focused on achieving something now," instead of fretting about a visa situation that she cannot control.
Today, when she meets someone for the first time, she simply says: "I am a student at Santa Clara."
Before it's here, it's on the Bloomberg Terminal.
LEARN MORE