Narrower Yield Gap Points to U.S. Stock Gains: Chart of the Day
David Wilson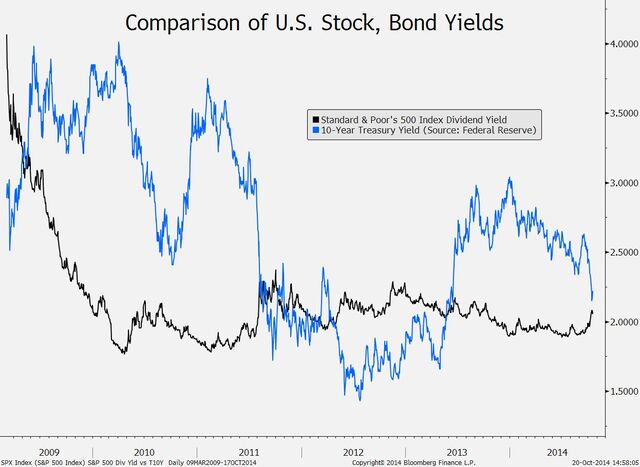 Yield gaps between U.S. stocks and Treasuries narrowed far enough to make share-price gains more likely in the next 12 months, according to Sam Stovall, chief equity strategist at S&P Capital IQ.
The CHART OF THE DAY tracks the dividend yield on the Standard & Poor's 500 Index and the yield on 10-year Treasury notes, as compiled by the Federal Reserve, since share prices began the current bull market in March 2009. Stovall compared them in a report yesterday.
Last week, the gap between the yields approached zero for the first time in 16 months. The S&P 500 ended the week with a
2.05 percent dividend yield, which trailed the 10-year yield by only 17 basis points. The spread has been as wide as 110 basis points this year. One basis point equals 0.01 percentage point.
"When the dividend yield for the 'standard for stocks' approximates that of the 'benchmark for bonds,' investors have historically concluded that stocks represent the greater opportunity," Stovall wrote. The New York-based strategist cited figures on yield spreads and S&P 500 performance since 1953, the starting point for the Fed's data series.
When the dividend yield matched the Treasury yield or trailed by no more than 100 basis points, the stock index rose an average of 13 percent during the next 12 months. The advance was tied for second among six yield-gap intervals he studied.
The biggest average increase was 19 percent, which was recorded when the S&P 500 yielded more than the 10-year note. The smallest was 1 percent, which occurred when the dividend yield trailed by 300 basis points to 400 basis points. Gaps exceeding 400 basis points were also followed by 13 percent rallies on average.
Before it's here, it's on the Bloomberg Terminal.
LEARN MORE