Hong Kong's Leung Says Patience With Protesters Wearing Thin
Fion Li and Frederik Balfour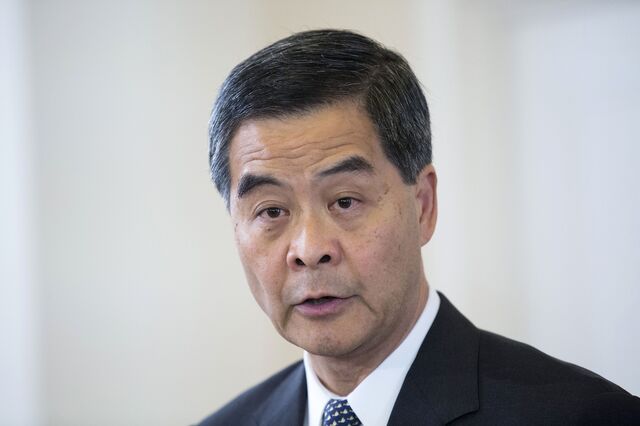 Hong Kong Chief Executive Leung Chun-ying said society's patience with pro-democracy protesters is wearing thin, as student leaders began meeting with government to resolve three weeks of demonstrations.
While saying that China has not issued any instructions about when police should clear the streets, Leung said that time is running out.
"If the police doesn't act soon to restore law and order and traffic to normal conditions, the general view in Hong Kong is that people in the neighborhoods or people in the transport sector might take the law into their own hands," Leung said in a briefing with foreign reporters.
Violent clashes between protesters and police over the weekend have raised the stakes for the talks that are meant to resolve the biggest challenge to China's sovereignty over Hong Kong since the end of colonial rule in 1997.
Student leaders have demanded China reverse a decision that candidates in the city's first-ever leadership election in 2017 must be vetted by a nominating committee, a mechanism designed to guarantee a chief executive more loyal to China than Hong Kong, they say.
Leung has said that scrapping that method is not an option, the question of how the members of the 1,200 person nominating committee are chosen could be open for discussion.
"There is room to make the nominating committee more democratic and this is one thing we would very much like to speak to the students about and with the public at large," he said just before talks began.
He also said that pressure to resolve the occupation of Hong Kong streets is mounting since three temporary injunctions for their removal were approved yesterday.
"I assume bailiffs will be out there enforcing injunctions," he said, "Police will be involved in one way or another.
Before it's here, it's on the Bloomberg Terminal.
LEARN MORE