Grimes Tied With McConnell, Roberts Pulls Even With Orman
New polls continue to underscore a single point: Senate races are awfully close.
By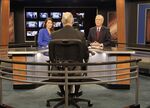 One day after President Barack Obama made the statement that may have launched a thousand new Republican ads attacking Democrats for standing with the president on policy if not on the campaign trail, the party is looking at mixed numbers in a series of recent Senate battleground polls. The bottom line remains the same: a handful of races are far too close to have any real sense of who is making a move (though operatives on both sides will be happy to tell you it's definitely their candidate.) The polls do provide a baseline of the current state of play on the ground, though. Take a look.