Grimes Tied With McConnell, Roberts Pulls Even With Orman
New polls continue to underscore a single point: Senate races are awfully close.
By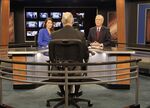 One day after President Barack Obama made the statement that may have launched a thousand new Republican ads attacking Democrats for standing with the president on policy if not on the campaign trail, the party is looking at mixed numbers in a series of recent Senate battleground polls. The bottom line remains the same: a handful of races are far too close to have any real sense of who is making a move (though operatives on both sides will be happy to tell you it's definitely their candidate.) The polls do provide a baseline of the current state of play on the ground, though. Take a look.
Kentucky
Kentucky Senator Mitch McConnell, the chamber's minority leader, and his Democratic opponent Alison Lundergan Grimes are locked in the equivalent of a tie in the latest Bluegrass Poll, a statewide survey conducted for The Courier-Journal, WHAS-TV, the Lexington Herald-Leader and WKYT-TV in Lexington. The poll showed McConnell up 44 to 43, within the margin of error, but a move in McConnell's direction compared to the last Bluegrass Poll, which had Grimes up two. 
So where does that leave things? The Bluegrass Poll has been somewhat of an outlier recently, with Grimes tracking higher in the poll than any other public polling done statewide. The RealClearPolitics poll average still has McConnell up by 4.4 points through Oct. 19. Still, it underscores that with a little more than two weeks left in the race, McConnell is far from in the clear, even after the Democratic Senatorial Campaign Committee chose to go off air in the state. President Bill Clinton is on his way to Kentucky on Wednesday to stump for Grimes. 
New Hampshire
Senator Jeanne Shaheen, the Democratic incumbent, is up by three points over former Massachusetts Senator Scott Brown in the latest Suffolk University-Boston Herald poll. At 49-46, the poll tracks closely with the Real Clear Politics average, which has Shaheen up by an average of 2.6 points in a race that has grown significantly tighter since the summer. 
Still, as the Boston Herald points out, there are bright spots in the poll for Shaheen, namely that more than 40 percent of Republican primary voters who voted against Brown are supporting Shaheen in the general election. Brown also faces high unfavorability numbers. But the Republican, who has pivoted sharply into making his campaign about the series of international crises that have been plaguing the Obama administration, continues to benefit from the the man in the Oval Office. President Barack Obama's approval rating in the state is now at 40 percent. 
Kansas
The Republican cavalry (or maybe at this point we can call it a full-blown army) appears to be providing a much needed boost for incumbent GOP Senator Pat Roberts. Roberts is now tied with independent challenger Greg Orman, according to a Monmouth University Poll. For Roberts, it's a major swing from just a few weeks ago, when several polls had him down as many as 10 points.
Roberts has taken to hammering Orman for his business ties and tried repeatedly to tie him to "liberal Democrats" and Obama. Orman has gone after Roberts for his years in Washington and role in a U.S. Senate that has been, shall we say, less than productive in recent years.  (The Wichita Eagle has a great rundown of their Oct. 15 debate here.) With 15 days left in the race, Roberts has locked in 76 percent of Republicans, according to the poll, and 8 percent remain undecided. Orman's edge lies heavily with Democrats (81 percent) and independents, where he holds a 28-point advantage over Roberts.