Google's Big Plans for Low-Cost Android One Phones in India
by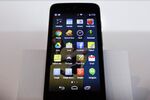 With the Indian smartphone market booming, Xiaomi has made a splash with its weekly flash sales on Flipkart, an Indian rival to Amazon.com. When the Chinese smartphone brand conducted another of its sales on Tuesday, over 300,000 people registered to buy some 90,000 of its Redmi 1S phones priced at 5,999 rupees (or $98). In last week's sale, the Xiaomi phones sold out in four seconds.
Xiaomi isn't the only foreign company looking to take advantage of consumer demand for inexpensive alternatives to the iPhone. The company with perhaps the most ambitious plan is Google, which last month made India the first market for its new Android One smartphone operating system. Google teamed up with local brands Micromax, Karbonn, and Spice, all of which have recently introduced smartphones priced around 6,000 rupees.
India particularly needs better low-cost phones, argues Caesar Sengupta, Google's vice president of product development in Singapore and head of the Android One project. India's mobile operators don't offer the sort of generous subsidies that consumers in the U.S. and other markets take for granted. "In the U.S., when you buy an iPhone, it costs $600 to $700 but you get a subsidy, so to a consumer it feels you are buying a $200 phone," Sengupta says. In India, the cost to the consumer is much closer to the actual cost of the hardware.
Moreover, India's average incomes are lower and handset costs are higher. "It's a double whammy," he says. "So phones look even more expensive."
Although Sengupta says he cannot reveal numbers regarding shipment of phones, he says sales have "gone very well" for the three Indian brands. Consumers will have more choices soon, with eight additional brands, both local and foreign, introducing Android One phones, including Lenovo, HTC, and Acer.
Even before Xiaomi entered the market, India had no shortage of inexpensive phones. So why should Google bother to promote the Android One? "What we found when we started looking at India, the quality of hardware isn't what it needs to be," says Sengupta. For instance, some cheap phones might come with obsolete versions of Android, limiting the ability of consumers to use newer apps—and curbing Google's potential to monetize those users.
Hence the need for Google to get more involved with the Android One operating system, which makes it easier for brands to work with manufacturers and know just what they can get in a $100 phone. For most smartphones, "what you can do is relatively constrained," Sengupta says. "Displays cost what displays cost. … What Android One does is, it lets [brands] leverage resources:  You know you are picking components that have been spec'ed out and tested."
Next up for the Android One is Indonesia. The country will have Android One phones by the end of the year, says Sengupta, who is eyeing other parts of Southeast Asia. Next year, he adds, "we will go through all the countries globally." Google is targeting "the largest 40 or so countries, market by market."
Before it's here, it's on the Bloomberg Terminal.
LEARN MORE