Dutch Pension Investor Sees More Threats Than ECB Tests
Maud van Gaal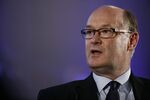 As euro-area banks brace for the results of a yearlong review of their finances, bigger regulatory uncertainties may lay ahead for their investors, according to PGGM NV, a Dutch money manager overseeing more than $200 billion in pension assets.
While the European Central Bank's assessment of banks is important, "unresolved regulatory measures that can have an impact on a bank's strategy may be more important," said Sevinc Acar, who helps oversee PGGM's holdings of investment-grade corporate bonds. She spoke in an interview at the company's headquarters in Zeist, Netherlands, on Oct. 15.
Putting in place rules in the U.K. to protect consumer banking from riskier activities are among the uncertainties that can affect banks, according to Acar. British lenders have to submit a ring-fencing plan to the Bank of England by Jan. 6, the central bank said this month.
For HSBC Holdings Plc, separating its securities arm from its consumer unit may cost as much as 2 billion pounds ($3.2 billion), Chairman Douglas Flint said yesterday.
Acar said another unresolved matter concerns contingent capital, securities that combine elements of debt and equity and serve as a first line of defense if a bank runs into trouble.
Although banks across Europe have sold more than $50 billion in the contingent capital notes this year, Dutch lawmakers have yet to decide how to treat them for tax purposes, keeping Dutch banks at bay for now.
"While we don't invest in contingent capital, it's good for banks' capital positions," she said. "The large amount of bail-in-able subordinated debt is beneficial for senior bondholders as there's a larger buffer shielding them from being hit."
The European Central Bank will release the results of an audit and stress test of about 130 of the largest euro area banks on Oct. 26 after sifting through thousands of data points on loans, collateral and provisioning. The outcome may reveal capital shortfalls at some banks or show regulators consider buffers smaller than what lenders have told investors.
The disclosures on risk-weighted assets, loan books and the impact of the stress test "are welcome as additional sources of information to use in our analysis of bank fundamentals," Acar said. PGGM manages about 178 billion euros ($227 billion) in retirement money for 2.5 million participants.
Before it's here, it's on the Bloomberg Terminal.
LEARN MORE