With De Margerie's Death, Putin Loses a Strong Business Ally
by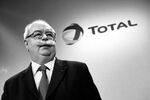 France is mourning the loss of one of its most-prominent business leaders after Christophe de Margerie, chief executive officer of oil giant Total, died on Monday, when his private jet was struck by an errant snowplow on a Moscow runway.
The loss for Russia may be just as painful—and not only because of the embarrassing reports that the snowplow driver appeared to be drunk on the job. (The man's lawyer denied the allegation). "Russia has lost de Margerie," the news website Gazeta.ru said today, reflecting his standing as one of the few Western corporate chieftains who continued to speak out in Russia's defense and maintain warm relations with its leaders amid deepening tensions over Ukraine.
The Total chief had been at Prime Minister Dmitry Medvedev's country house near Moscow shortly before his death, according to the business newspaper Vedomosti. In a condolence telegram to French President François Hollande, President Vladimir Putin called de Margerie a "real friend" of Russia.
De Margerie was a keynote speaker last spring at Putin's annual economic summit in St. Petersburg—an event that many Western executives decided to skip—where he signed a deal with Russian oil group Lukoil to develop shale oil in Western Siberia. De Margerie also pressed ahead with major Russian investment, including the $27 billion Yamal natural gas venture in the Arctic led by Russian gas group Novatek, even as sanctions against Novatek and one of its owners, Gennady Timchenko, have complicated financing.
De Margerie told Bloomberg News recently that he was "doing everything" to move the Yamal project forward, in keeping with his belief that politics and business should be kept separate. Total, the world's No. 4 non-state-owned energy group, has said that Russia could become its largest supplier of oil and gas by the end of this decade, up from its fourth-biggest supplier in 2013.
Total is likely to stick with its Russia projects under a new CEO, whom analysts predict will be recruited from within the company. A leading contender is Patrick Pouyanne, head of Total's refining and chemicals business. "We have believed for some time that Pouyanne was being groomed for the top job," analyst Ian Reid of BMO Capital Markets in London said in a note to clients.
A new CEO may not be willing to stick his neck out in Russia's defense quite as much as de Margerie was doing. "Are we going to build a new Berlin Wall?" he asked in an interview with Reuters last summer. "Russia is a partner, and we shouldn't waste time protecting ourselves from a neighbor."
Before it's here, it's on the Bloomberg Terminal.
LEARN MORE