Credit Suisse Seen Reaping Trading Gains
Nicholas Comfort, Stephen Morris and Jeffrey Vögeli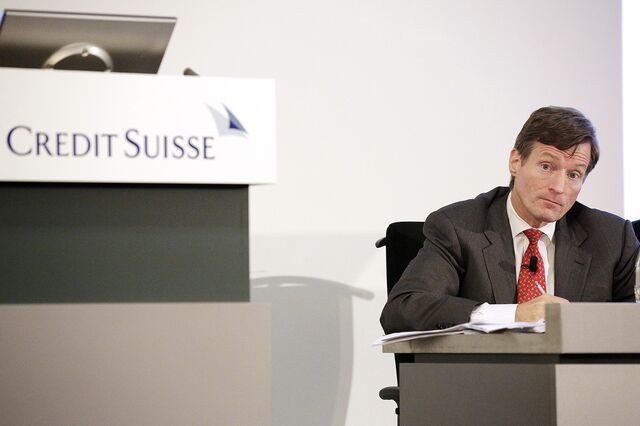 Mounting legal costs at some of Europe's largest investment banks threaten to overshadow the rebound in third-quarter trading income.
While Credit Suisse Group AG, which releases earnings tomorrow, is poised to benefit from rising revenue from debt and currency trading, litigation costs may dent the results of Deutsche Bank AG, UBS AG and Barclays Plc, analysts surveyed by Bloomberg News said.
Investors are bracing for banks to set aside more money to cover regulatory penalties after JPMorgan Chase & Co. boosted its reserves by $1 billion this month to help cover costs related to the investigation into foreign-exchange markets. Citigroup Inc. analysts Kinner Lakhani and Nicholas Herman estimate that global fines from the alleged attempts to manipulate currencies may cost banks $41 billion.
"Credit Suisse has a key advantage," said Alevizos Alevizakos, an analyst at Keefe Bruyette & Woods Ltd. in London. "You have a good visibility in terms of earnings since they don't expect massive hits" from litigation, he said.
The bank, Switzerland's second largest, will probably say net income almost doubled to 873 million Swiss francs ($924 million) in the third quarter from a year earlier, according to the average estimate of five analysts surveyed by Bloomberg.
UBS, based in Zurich, will publish earnings on Oct. 28, while Frankfurt-based Deutsche Bank follows a day later and Barclays of London reports on Oct. 30. Spokesmen for Zurich-based Credit Suisse and the three other banks declined to comment before the results.
Credit Suisse shares climbed 0.9 percent to 25.03 francs by 10:39 a.m. in Zurich, while UBS rose 0.4 percent and Deutsche Bank and Barclays slipped 0.1 percent.
Legal Costs
Deutsche Bank will probably face $6.2 billion in legal costs by the end of 2016, analysts at Morgan Stanley in London wrote in a report last month. UBS may book another $3.1 billion in charges, while Credit Suisse is likely to face $1.1 billion in expenses, the analysts estimated. Barclays, which is also compensating clients who bought loan insurance they didn't need, may face $10.2 billion in provisions by the end of 2016, according to Morgan Stanley.
While banks profited from increased trading in the final weeks of the third quarter, legal costs and a worsening outlook for the global economy have weighed on the shares, Piers Brown, an analyst at Macquarie Group Ltd., said by phone. "We are still pretty cautious on investment banks."
Credit Suisse and UBS dropped about 8 percent in 2014, while Barclays tumbled 18 percent and Deutsche Bank 25 percent. All four trailed the 2.5 percent decline in the Bloomberg Europe Banks and Financial Services Index, which includes 45 companies.
Rising Revenue
The five biggest U.S. securities firms saw their combined revenue from trading fixed income, currencies and commodities rise 14 percent in the third quarter from a year earlier, data compiled by Bloomberg Intelligence show.
A stronger U.S. dollar, concern that Scotland would secede from the U.K. and a slowdown in the European economy triggered market swings in the quarter.
Credit Suisse will probably say investment banking and trading revenue rose 13 percent to $3.4 billion in the period from a year earlier, while UBS may record a 20 percent jump to $2.2 billion, estimated Kian Abouhossein, a JPMorgan analyst based in London, in a report this week. Deutsche Bank may record a 10 percent increase to $3.9 billion and Barclays a 3 percent gain to $2.9 billion, JPMorgan estimated.
'Structural Problem'
A sustained pickup in fixed-income trading revenue is unlikely, said Chirantan Barua, an analyst at Sanford Bernstein Ltd. in London. "FICC is a structural problem for the investment banks and not a cyclical one," he said.
Deutsche Bank, Credit Suisse and Barclays, Europe's biggest debt traders, have responded to stricter regulation and record-low interest rates by shutting desks and firing staff. UBS said in 2012 that it would exit most of its fixed-income business.
Stricter regulation will cut the return on tangible equity of the corporate and investment banks of 14 European Union-domiciled lenders by as much as 1.7 percentage points, analysts at Mediobanca SpA said in an e-mailed report from London today. That results from limits on leverage and rules that force banks to create firebreaks between their securities units and deposit-taking arms, as well requirements for banks that operate in the U.S. and a tax on financial transactions, the analysts wrote.
More Cuts
"They will continue to cut," Arun Melmane, an analyst at Canaccord Genuity Corp., said of the investment banks. "It is a fact of life that you will have regulation and litigation for at least one or two years to go through."
Deutsche Bank will add 533 million euros ($678 million) to its reserves for settlements and fines in the third quarter, based on the average of three estimates from analysts. Probes the bank faces include those into alleged interest-rate and currency-market manipulation. The bank's provisions for potential legal costs could rise to as much as 7 billion euros, German magazine Der Spiegel reported this month, citing people close to the bank that it didn't identify.
UBS, under investigation in the foreign-exchange probe as well as in France and Belgium for allegedly helping wealthy clients avoid taxes, may set aside 343 million Swiss francs to cover fines and legal expenses, the survey found. UBS Chief Financial Officer Tom Naratil signaled last month that Switzerland's biggest bank will probably book additional charges related to litigation in the quarter.
Dark Pool
Barclays is fighting allegations from New York State Attorney General Eric Schneiderman that it lied to customers and masked the role of high-frequency traders to boost revenue at its dark pool, a private-trading venue. Britain's second-largest lender reiterated this month that Schneiderman's complaint is based on "factual and legal errors" and should be dismissed.
Ian Gordon at Investec Ltd. in London predicts the company will take a 150 million-pound ($242 million) charge related to its conduct, excluding provisions related to the foreign-exchange probe. Two other analysts said Barclays probably won't book further legal costs in the period.
More Comfortable
Credit Suisse resolved what Chief Executive Officer Brady Dougan described as its two most important legal matters in the first half. The bank agreed to pay $885 million in March to settle lawsuits over mortgages it sold to Fannie Mae and Freddie Mac and $2.6 billion in May to resolve a U.S. investigation of allegations it helped Americans evade taxes.
While all four banks are under scrutiny in regulatory probes of alleged attempts to manipulate currency markets, Credit Suisse said last month "the investigation has not so far revealed anything material around Credit Suisse." The companies say they are cooperating with regulators in those matters.
"Credit Suisse is in a relatively more comfortable situation," Omar Fall, an analyst at Jefferies Group LLC, said by phone from London.
Before it's here, it's on the Bloomberg Terminal.
LEARN MORE