A Coy Chris Christie Pays a Call on the Washington Business Lobby
Paul M. Barrett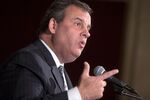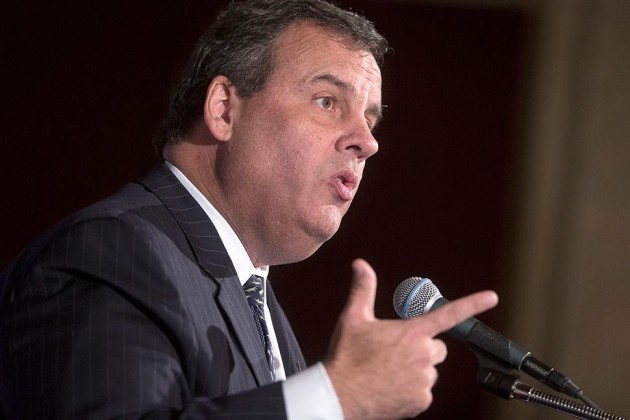 New Jersey Governor Chris Christie was in a playful mood when he stopped by the U.S. Chamber of Commerce on Tuesday to deliver the keynote speech at a luncheon devoted to clamping down on lawsuits against corporations. Alluding to his not-well-disguised bid for the 2016 Republican presidential nomination, the voluble Christie said: "I am convinced that the next president of the United States is going to be a governor, and it needs to be."
As his audience of corporate executives, lobbyists, and defense attorneys chuckled, Christie smiled and did not connect the coy comment to his own undeclared candidacy. Instead, he took one of several swipes at President Obama. "We have had the experiment of a legislator who's never run anything getting on-the-job training in the White House," he added. "It has not been pretty."
Christie's brief speech—he said he had to get back to the campaign trail to aid fellow Republican governors up for reelection—offered a boilerplate agenda of lowering taxes, reining in regulation, restricting class-action lawsuits, and battling teachers' unions. One of his more intriguing comments was that it's important to put Republicans in statehouses this fall so that the GOP will "oversee the voting mechanism" in 2016. He seemed to be indicating that he expects a close presidential election in which local disputes over vote counts could make the difference in battleground states.
Christie sounded his trademark theme: that as a "conservative Republican governor" he has managed to reach across the aisle to govern effectively in a blue state, where Democrats control the legislature. "Sometimes it's my charm and good looks," he joked. "Sometimes it's taking someone out and giving them a beating, publicly."
Signaling his awareness of Tea Party skepticism about his stands on some social issues, Christie admonished Republicans not to apply rigid ideological tests for potential candidates. "Don't penalize us for every small issue we disagree with you on," he said.
The generally reserved audience gave Christie his one flurry of applause when he lashed out at teachers' unions, which he accused of being interested only in the welfare of their members, not the education of children. "We are saps for the teachers' unions," he said. "It's time to start offending people."
Christie couldn't have been more dismissive of the president's health reforms. "It's a fiction," he said of Obamacare. "It doesn't work, and it should be repealed." The governor said Republicans had to come up with an alternative health-care policy, but he didn't indicate what that might be.
Similarly, when answering a question about the national debt, he said his solution was: "Spend less, grow more." Details, he added, would have to be left for "a longer conversation" on another occasion. A few minutes later, he was hustling out the door, his security men hurrying behind him.
Before it's here, it's on the Bloomberg Terminal.
LEARN MORE