Chris Christie Lays 2016 Foundation
The Republican Governors Association political bank can pay dividends for its chairman, New Jersey Governor Chris Christie, if he decides to run for president.
By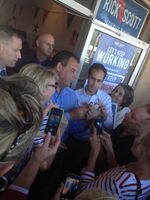 A mob filled Governor Rick Scott's campaign field office in a strip mall last week in Vero Beach, Fla., spilling into the October afternoon, many in the crowd elbowing past the candidate to get to the main attraction.
In the maw of old ladies in festooned sun hats and young men clutching baseballs for autographs stood Chris Christie, chomping on a piece of gum, making small talk and obliging an endless stream of selfie-snappers.
"He's coming down here so much, I think he's looking for property," Scott joked.
Christie, the New Jersey governor who seems a likely addition to the 2016 presidential primary roster even after being damaged by last year's Bridgegate controversy, has been traveling the country doing what he's supposed to do as chairman of the Republican Governors Association: raising as much money and publicity as he can to help his party's incumbents and candidates ahead of the Nov. 4 elections. He's generated a record $90 million for the RGA since he started the job last November. By comparison, former RGA chairman and Mississippi Governor Haley Barbour raised $76 million during the same period of time. Christie is on track to raise more than $100 million ahead of the midterms. 
Brimming Account
The RGA's brimming bank account can also pay dividends for the chairman, if Christie decides to run for president. The part-time job facilitates an expansion of his fundraising, grassroots and turnout networks well beyond his New Jersey base. It's a strategy former Massachusetts Governor Mitt Romney perfected when he was RGA's chairman before he ran in the 2008 GOP primary, and one his successors have embraced and adapted to their own political plans or needs. 
"One of the advantages of Governor Christie running the RGA during the cycle prior to a presidential cycle is that he and his political operatives are getting a lot of exposure to state political networks that are currently in place that could provide the building blocks for a national network, for a prospective national campaign," said Kevin Madden, a Republican strategist and former Romney adviser.   "If it's done right, it's what then can become a turn-key presidential operation."
Several states important in presidential elections have been getting the love from Christie; some of them have competitive governor's races; others, maybe not so much.
No state has gotten more attention or resources than Florida, where, according to Christie, the RGA has already given $17 million to help Scott in a brutal re-election battle against Democrat Charlie Crist, the former Republican governor of the state. Internal Revenue Service records show $13.5 million in payouts through the end of September to "Let's Get to Work," an outside committee that backs Scott, while other contributions have yet to be publicly disclosed. Christie has already made five stops in the state, and three more are planned before Nov. 4.
Florida Stakes
If Christie runs for president, he'd probably need to come in first -- or, if former Florida Governor Jeb Bush were to run, second -- in the state's primary in order to survive the Republican nominating contest. The state would be equally critical in the general election. Florida's is the third largest state for electoral votes, tied with New York at 29, and the largest of presidential swing states. 
"Florida is the 600 pound gorilla especially, in the early phases of primaries," John French, a Republican activist in Tallahassee said. "Florida is also a swing state, obviously, that everybody will be watching."
Christie also has made multiple visits to and spent millions in Iowa, South Carolina and New Hampshire, all early primary states and none of whose governor's races are among the nation's tightest. Republican incumbents in Iowa and South Carolina are favored to cruise to re-election, while the the party's challenger in New Hampshire is expected to lose. Even so, the RGA has spent $1.9 million in Iowa, $1.5 million in South Carolina; and about $500,000 in New Hampshire on ads and contributions to candidates, parties and committees, according to campaign finance records and sources that track ad buys.
Swing States
In addition to influential primary states, Christie's RGA is making investments in important general election venues. For instance, it's sunk $2.9 million in Ohio, mostly on ads to support Governor John Kasich, whose re-election is basically a gimme. New Mexico Governor Susana Martinez, the first Latina governor in the U.S. and a close ally of Christie, has benefited from $600,000 in RGA help this year, though she's heavily favored in the upcoming election.  And at least $1.1 million has been sent to Texas, a red state where Democrats are trying to turn a growing Hispanic community to their advantage.
In some cases, the RGA scored a two-fer, where hotly contested governor races are located in states that he may target as a 2016 presidential nominee.
In Illinois, Republicans are trying to wrest control of the governorship from Democratic incumbent Pat Quinn with candidate Bruce Rauner. Republicans also have a good shot at picking up Massachusetts, where Charlie Baker has been tied with and may have the momentum to beat Democrat Martha Coakley in the race for the seat being vacated by Governor Deval Patrick. Both states went with Obama but could be valuable to Christie as a primary candidate or for fundraising. Republicans are trying to hang on in Pennsylvania, where incumbent Governor Tom Corbett is in trouble against the Democrats' nominee, Tom Wolf.  The RGA has spent $7 million in Illinois, $4.8 million in Massachusetts and the governor's group and others linked to it have plowed $6.3 million into the Pennsylvania contest.
Saving Florida
During his swing through Florida last week, Christie downplayed presidential calculations, saying that "2016 is like two years from now so what am I worried about," he said. "In the end, my job is to make sure that as many governors get elected and re-elected as possible. My mother told me a long time ago, do the job you're doing right now as best as you can and the future will take care of itself."
It's a noble thought and good advice, and not how politics generally works. Winning campaigns often follow the guidance of another famous bit of wisdom that goes, in varying forms from many different thinkers, along the lines of: preparation is the key to success.
Governor Scott and Crist have been tied in the polls in a race that carries implications for the expansion of Obamacare, the preservation of President Barack Obama's education priorities and which party will have control of the state's political apparatus going into the 2016 presidential. "Florida is one of the most important states in our country and politically it's been crucial," Christie said between meetings with citrus growers in Vero Beach and donors in Port St. Lucie. "We want to make sure Florida stays in the hands of the Republican Party."
French, the Tallahassee strategist who is chairman of the pro-Scott committee the RGA has largely funded, said "with the tightness of the election I don't know how we would have" kept it close without the RGA's help.  "When he goes to these rallies with Scott, he's seeing the Republican cognoscenti, the regular voters, the campaign workers, the state and local leaders."
Fan Base
Jean Gigel, a Republican retiree who's lived in Florida for 20 years, was among those who flocked to the Scott field office in Vero Beach  to see Christie. "I'm from New York, my husband's from New Jersey, so we're kind of partial," she said. "He's human. He's natural."
So did Sam Gillette, a 20-year-old Democrat who brought Time magazine copies with Christie on the cover to be signed. Gillette said if Christie were to run, he might cross party lines to vote for him. Other than "the one little thing that happened" with the bridge scandal, Gillette said Christie "appeals to me" with an outgoing and plainspoken personality that shows "he can relate to people."
The part of Christie's persona with cross-appeal to mid-Atlantic snowbirds and young voters doesn't always play as well with more traditional southern Republicans. Jim Grubb, a Scott backer and sales representative for a box company, said, "I'm not that hot on" Christie. Ask him why and he mentions concerns about the bridge controversy but also says bipartisanship irritates him. Citing Christie's bro-handshake and coziness with President Barack Obama during a joint appearance after Hurricane Sandy in 2012, Grubb said he doesn't like politicians who "kiss up to get money" and that, overall, "I don't think he's conservative enough." Still, he said, he could change his mind if Romney doesn't run again. "I don't know that much about Christie."
Also on Bloomberg Politics: 7 Games of 'Would You Rather' With Chris Christie