After Chipotle's Big Year, Should We Believe 2015 Will Be Less Stellar?
by
Chipotle's winning streak continued over the summer to the tune of a 19.8 percent increase in same-restaurant sales. In fact, for every quarter in 2014, the company has exceeded  the comparable sales number from the year before by at least 10 percent. But Chipotle doesn't expect the torrid streak to continue, offering a far more moderate estimate for 2015 during its earnings report on Monday.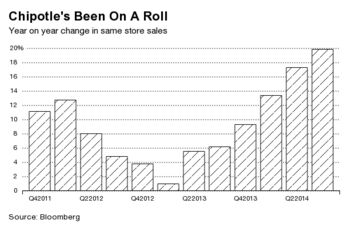 Next year will bring "low to mid-single-digit comparable restaurant sales increases," Chipotle advised, compared to a projected mid-teen percentage increase for the full year 2014. The chain is not planning a further round of menu price increases soon. As Chipotle spokesman Chris Arnold said in an e-mail, "We are going up against very large numbers from this year."
Despite those low expectations, it's worth remembering that Chipotle said the same thing at this time last year and the results were far better. Same-store sales jumped 17.3 percent during the second quarter of 2014, and only 2.5 percentage points came from a price hike that was rolled out in late April. The rest came from selling more burritos.
Chipotle hopes to boost sales in 2015 through "higher throughput," industry jargon for faster service. While Chipotle's speediest restaurants already handle 350 transactions per hour, the average restaurant is only running at one-third that speed during peak lunch hour.
At the same time, the company is focused on using its higher-end model to develop its two additional chains: ShopHouse and Pizzeria Locale. "I believe this is the new fast-food model. Increasingly, consumers want what Chipotle is doing, and they seem to be turning away from traditional fast food in favor of better food and a more compelling experience," said co-Chief Executive Officer Steve Ells during Monday's earnings call.
Even if next year's sales grow at a slower clip at existing restaurants, prepare to see more openings. Chipotle plans to open 190 to 205 restaurants next year, slightly more than the 180 to 195 debut outlets it will have launched by the end of 2014.
Before it's here, it's on the Bloomberg Terminal.
LEARN MORE