California Nurses to Jerry Brown: We Are Not Ready for Ebola
The head of the largest nurses union says the state's health care system has 'outrageous' shortcomings.
By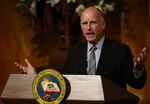 In a Tuesday meeting with Governor Jerry Brown, the head of the state's largest nurses' union said that there is not a single California hospital ready to treat an Ebola case. 
"None of the hospitals in California are prepared," RoseAnn DeMoro, executive director of the California Nurses Association and National Nurses United, told reporters following the meeting with Brown. "We cannot name a hospital that we feel comfortable with, for patients in the state of California to attempt to have the appropriate response in an Ebola situation."
Brown's office issued a statement saying that "state officials are taking steps to help ensure health care workers, hospitals and first responders are prepared to treat and care for patients with Ebola," the Sacramento Bee reported, but did not address DeMoro's contention directly. 
"The deficiencies in the systems in California are outrageous," DeMoro said while surrounded by other nurses at a news conference held outside Brown's Sacramento office.
Her criticisms of the state of preparedness aside, DeMoro said that her meeting with Brown had been "extremely productive," and that the governor was implementing a plan that would make the state a "role model" for Ebola care in the nation.