Ben Carson's Supporters Jump Into Two Critical Senate Races
Supporters of the potential presidential candidate spend half a million dollars on ads in Southern states.
By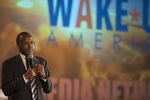 I spent the end of last week in Louisiana on a reporting trip, where a few irritated strategists introduced me to something new: Radio spots from the committee to draft Ben Carson into the 2016 presidential race. As Jim Morrill reported last month, the surprisingly flush team at Run Ben Run opened the vault to the tune of $530,000 to buy time in North Carolina and Louisiana, the two 2014 states where Obama-level black turnout could save two Democratic senators.