Ben Carson's Supporters Jump Into Two Critical Senate Races
Supporters of the potential presidential candidate spend half a million dollars on ads in Southern states.
By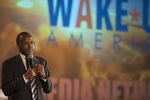 I spent the end of last week in Louisiana on a reporting trip, where a few irritated strategists introduced me to something new: Radio spots from the committee to draft Ben Carson into the 2016 presidential race. As Jim Morrill reported last month, the surprisingly flush team at Run Ben Run opened the vault to the tune of $530,000 to buy time in North Carolina and Louisiana, the two 2014 states where Obama-level black turnout could save two Democratic senators.
The ads – the "intervention," in campaign parlance – have black narrators telling voters that the Democratic Party is out to get them. "Does Mary Landrieu care that one out of three babies aborted in America are black?" ask the narrators of one spot. "The future of our community is being killed off."
Vernon Robinson, the onetime black Republican candidate who now runs the draft Ben campaign, was convinced that the ads worked. In polls, Democratic Senator  Mary Landrieu commands 80-odd percent of the black vote, but she won 95 percent of it when she secured her current term. "We ran these ads in six markets in Louisiana which covered about 80 percent of the black population," Robinson said. "You saw that [Republican candidate Bill] Cassidy's black support went up – he's in double digits with black voters now."
Public polling doesn't show that yet, but the ads, coupled with the push I was down there to cover, represent something new and aggressive in Republican outreach. It's not sanctioned by the party, but the party isn't ignoring it.