AFL-CIO Urges Workplace Safety Rules After Ebola Failings
Jim Snyder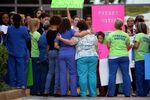 The AFL-CIO, the nation's largest labor federation, is urging President Barack Obama to require tougher workplace safety standards at hospitals to protect workers treating the deadly Ebola virus.
"Existing protocols, standards and guidelines, and adherence to them, are deficient," AFL-CIO President Richard Trumka wrote in a letter sent yesterday to Obama. Similar letters were also sent to the leaders of the Senate and House and released today.
Two health care workers contracted Ebola after treating Thomas Eric Duncan, the first person in the U.S. diagnosed after traveling to Liberia where the Ebola outbreak has killed more than 2,000. Duncan died Oct. 8 in a Dallas hospital.
"The failures in the response have put dozens of additional health care workers at risk, and potentially exposed many other workers and members of the public," Trumka wrote.
The Centers for Disease Control and Prevention issued new guidelines yesterday for treating Ebola. Hospital workers should wear two sets of gloves, hoods with face shields and special masks, and undergo rigorous training to treat infected patients, the CDC announced.
Obama also has picked Ron Klain, a former chief of staff to Vice President Joe Biden, to serve as a special assistant coordinating the Ebola response. Klain starts work tomorrow.
The Washington-based AFL-CIO said treatment guidelines should be mandatory, and part of updated Occupational Safety and Health Administration workplace rules.
Workers should also be protected from employer retaliation if they complain that the safety rules are insufficient, Trumka said.
Trumka said unions should work with the CDC and OSHA to write the standards.
The federation also called on Obama and Congress to direct more money to "restore the public health infrastructure" to better respond to health emergencies.
Before it's here, it's on the Bloomberg Terminal.
LEARN MORE