Actelion Raises Full-Year Forecast as Profit Advances
Simeon Bennett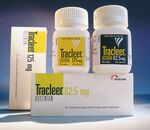 Actelion Ltd. raised its full-year forecast a second time after third-quarter profit beat analysts' estimates on sales of a new lung treatment that's on its way to become the Swiss drugmaker's bestselling product.
Core earnings will increase in a low-twenties percentage range at constant exchange rates, the Allschwil, Switzerland-based company said in a statement today. Actelion's previous forecast was for growth in the mid-teens.
Opsumit, a lung medicine that was approved in the U.S. last year, is driving growth as the company's bestselling product, Tracleer, starts losing patent protection in 2015. Doctors have embraced the successor treatment more quickly than the company had anticipated, Chief Executive Officer Jean-Paul Clozel said in a phone interview today.
"For every launch, doctors have to get their own experience with the drug," Clozel said. "It went faster than we had anticipated."
Actelion rose 3 percent to 105.5 Swiss francs in Zurich. The stock has returned 42 percent this year, outpacing the 16 percent return for the Bloomberg Europe Pharmaceutical Index.
'Tax Tricks'
Actelion, which has been a perennial subject of takeover speculation, is not for sale, and the U.S. government's move to hamper tax-inversion deals is good for the industry because it forces companies to focus on the intrinsic value of assets rather than "tax tricks," Clozel said.
The company is "very unlikely" to do a major deal of its own because it's looking for drugs that are in the later stages of development or are approved, which are rare and expensive, he said.
Third-quarter core earnings jumped 31 percent at constant exchange rates to 209 million Swiss francs ($222 million), beating the average estimate for profit of 184.6 million francs among seven analysts compiled by Bloomberg.
Opsumit will eventually exceed Tracleer's peak sales last year of 1.5 billion francs, according to Chief Operating Officer Otto Schwarz.
"It's not a matter of if, it's a question of when," he said on the call.
Actelion also said it will submit another drug, selexipag, for regulatory approval in the U.S. and Europe in coming months.
Opsumit is now available in 16 countries and the company said it plans to introduce it in France, Spain and Japan next year.
Before it's here, it's on the Bloomberg Terminal.
LEARN MORE