Widodo's First Test Looms With Indonesia Cabinet Choices
Herdaru Purnomo and Neil Chatterjee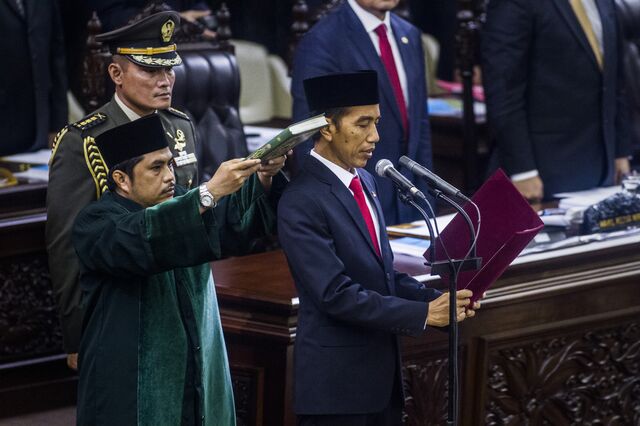 Indonesian President Joko Widodo faces his first test as leader of Southeast Asia's largest economy, with scrutiny turning to the formation of his cabinet after the former Jakarta governor was sworn in yesterday.
The ministers picked by Widodo, known as Jokowi, will show how resilient he is to political demands as he seeks to fulfill promises to cut fuel subsidies, reduce bureaucracy, curb corruption and build infrastructure. Indonesia's seventh president inherits an economy growing at its slowest pace since 2009 and a current-account deficit that's hurt the rupiah. Jokowi said today he will announce the cabinet soon.
"The markets should react positively if President Joko Widodo can fulfill his campaign promises to select non-partisan professional figures," said David Sumual, chief economist at PT Bank Central Asia in Jakarta. "It will be his first litmus test, we'll see if he can withstand political pressures."
The president's election pledge to forgo horse trading and pick "only the best" for his cabinet has been undermined by pressure for political appointees, including from his own party head, former president Megawati Soekarnoputri. Jokowi plans to appoint 18 professionals and 15 politicians to lead a government that will have 33 ministries with four coordinating ministers.
Probable Candidates
Jokowi, 53, worked past midnight on his first day as president to meet candidates, said a person who was present, who asked not to be identified because the meetings were private. He is considering the most recent vice-finance minister, two former trade ministers and heads of the state rail and port companies for his cabinet, said people familiar with the discussions who asked not to be identified because the talks are private.
Bambang Brodjonegoro, vice-finance minister for the previous president, Susilo Bambang Yudhoyono, and former trade and industry ministers Luhut Panjaitan and Rini Soemarno are on the shortlist for cabinet positions, said the people. Panjaitan is an adviser to Jokowi and Soemarno headed the president's post-election transition team.
Ignasius Jonan, head of state railway company PT Kereta Api Indonesia, and R.J. Lino, head of state port company PT Pelabuhan Indonesia II, were also cited as candidates by the people. Others in the running include Darmin Nasution, a former central bank governor, Anies Baswedan, an academic who acted as Jokowi's election spokesman, and PT Bank Mandiri President Director Budi Gunadi Sadikin, according to some of the people.
Political Elite
A cabinet with a large number of political appointees could add to deepening concern that Jokowi will struggle to deliver the structural reforms that Bank Indonesia Governor Agus Martowardojo says are needed to reach Jokowi's target of 7 percent economic growth. His Indonesian Democratic Party of Struggle, or PDI-P, has so far failed to find sufficient allies in parliament to establish a majority.
Indonesia's new leader must tackle a political elite split by a contested election outcome that overshadowed the transition from the decade-long rule of Yudhoyono, who called on everyone to support the new president. Investors are hoping Jokowi, like his Indian counterpart Narendra Modi, can take quick action by cutting red tape and subsidies that limit the government's ability to build more infrastructure.
The rupiah has lost most of the gains made earlier this year that came on expectations Jokowi would easily win July's election and deploy the can-do approach he was known for as Jakarta governor at a national level. Foreign funds have pulled $1.1 billion from Indonesian shares since the beginning of September, exchange data show. Morgan Stanley, the most-accurate forecaster of the rupiah in the past year, expects the currency to extend a three-month slide as Widodo struggles to gain support.
Megawati's Candidates
"Jokowi brings the country to a new stage that leaves ties to the old power structure behind," said Achmad Sukarsono, an associate fellow at The Habibie Center in Jakarta. "He has much to prove at the top."
Megawati's proposals for Jokowi's cabinet include her daughter Puan Maharani; Tjahjo Kumolo, the secretary-general of the PDI-P; Soemarno and Andi Widjajanto from Jokowi's transition team, according to a person familiar with the process, who asked not to be identified because the talks were private.
Kumolo, Widjajanto and PDI-P lawmaker Eva Kusuma Sundari are candidates on the shortlist, according to the people familiar with the discussions. Soemarno, the former trade minister who is also cited as a candidate, served in Megawati's cabinet.
Political Pressure
"If it appears that there is a number of so-called Mega people on board, there will indeed be an appearance that he is under pressure to appoint his party folks," said Wellian Wiranto, a Singapore-based economist at Oversea-Chinese Banking Corp. "To the extent that some of them can be labeled technocrats, the market should be largely OK with it. Not enamored, but not completely put off."
Jokowi's lack of a majority in parliament also increases pressure on him to offer posts to opposition politicians to prise them from a coalition that controls the legislature.
Megawati, the daughter of Indonesia's first leader Sukarno, and president herself from 2001 to 2004, is giving names from the PDI-P party to Jokowi for the cabinet, yet isn't putting pressure on him, Hasto Kristiyanto, a member of Jokowi's transition team, said earlier this month.
"It seems that there's a bit of a battle between Jokowi and Mega, but they're trying to balance it by giving the most important seats to Jokowi while Mega gets the less important seats in the cabinet," said Wisnu Wardana, an economist at PT Bank CIMB Niaga in Jakarta.
Before it's here, it's on the Bloomberg Terminal.
LEARN MORE