Who's Afraid of Bank Stress Tests? Not Ireland's Banks
Joe Brennan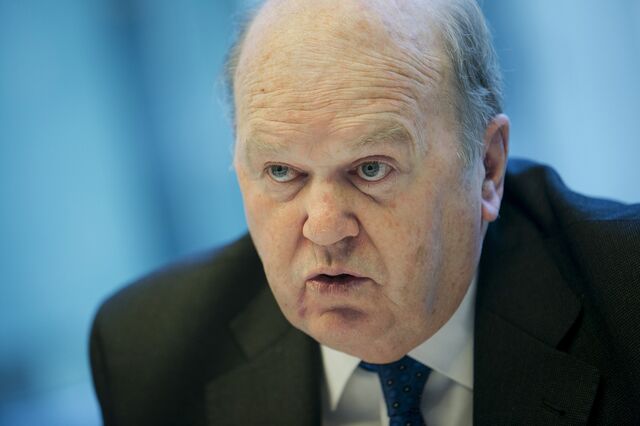 Ireland, home of the euro region's worst banking crisis four years ago, is relaxed about the latest examination of its financial companies.
Irish banks needed to raise 24 billion euros ($30.1 billion) when last probed by the nation's central bank three years ago. Now, only the smallest surviving bailed-out lender, Permanent TSB Group Holdings Plc, faces a capital shortfall after a European assessment this month, Finance Minister Michael Noonan signaled on Oct. 14.
"Permanent TSB is the most vulnerable of the Irish banks," said Emmet Gaffney, an analyst at Investec Plc in Dublin. "Even in an extremely bearish scenario, I can't see a capital need of more than 700 million euros."
Investor concerns that failing banks would sink Ireland pushed the country into a bailout in 2010. Four years on, Irish borrowing costs based on 10-year bonds are closer to Sweden than Spain, and Noonan said last week that's the two largest banks "are very secure in capital terms."
"We would not expect any capital requirement to be a huge issue from the sovereign's perspective," said Ross Abercromby, an analyst at credit ratings firm DBRS Inc. in London. "The outcome of the stress tests is important for the banks but also for the sovereign as well."
ECB Results
The European Central Bank will publish the results of stress tests on 130 of the euro area's banks on Oct. 26.
Ray Gordon, a spokesman for Permanent TSB, declined to comment. He repeated that Deutsche Bank AG is advising the lender on "capital markets in general and on developing relationships with the international investment community."
The yield on Irish 10-year bonds stood at 1.74 percent. That compares with a peak of 14.2 percent in July 2011, three months after the central bank identified that the nations lenders needed more capital. In all, the Irish government injected about 64 billion euros to save the financial system.
The central bank last year assessed the banks before Ireland left its rescue program in December. That left them "in a fairly good place to weather" the ECB tests, according to Denzil De Bie, an analyst with Fitch Ratings Ltd. in London.
"We don't think there'll be fundamental shocks -- not for Bank of Ireland or AIB," De Bie said.
Weak Link
The weak link, though, remains Permanent TSB. The company was part of Irish Life & Permanent Plc, which Noonan split up after needing a 4 billion-euro state rescue during the crisis.
Permanent TSB's common equity Tier 1 capital ratio, a key measure of financial strength, fell to 12.7 percent at the end of June from 13.4 percent in December, as it continued to grapple with losses stemming from the nation's real-estate bust.
Banks must show they hold a ratio of at least 8 percent of risk-weighted assets in the ECB's base-case scenario. The ratio must be 5.5 percent under the ECB's worst-case scenario.
At the end of June, 12.5 percent of the bank's home loans were in arrears, compared with a national average of 11.8 percent. Two-thirds of the bank's loan book is linked to record-low central bank rates, meaning it's losing money on them, and it said in December it won't be profitable until 2017.
Losses will continue to eat into capital, potentially driving ratios below the ECB's thresholds. Yet the amount of cash involved is small. Investec's Gaffney based his 700 million-euro estimate in an "extreme case" of the ratio falling to 1.5 percent under the ECB's adverse scenario.
The government can switch its 400 million euros of contingent convertible notes in the bank into equity, reducing the capital needed, Gaffney said. A share sale is one potential avenue to close the remaining gap.
"If they require capital, they're strong enough to get the small amounts of capital they require in the markets," Noonan told reporters on Oct. 14. "So we don't see any risk to taxpayers."
Before it's here, it's on the Bloomberg Terminal.
LEARN MORE