The Lewinsky Scandal: Where Are They Now (On Twitter)
Where are Linda Tripp, Ken Starr and Sid Blumenthal anyway? Apparently, not on Twitter.
By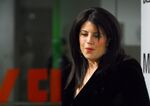 In the beginning, just one guy followed her. It was with hungry eyes as she exited the Oval Office. It didn't end well. 
Almost 20 years later, Monica Lewinsky joined Twitter, a place of new beginnings for one and all. Mere hours later, she had 34,000 followers, all ready to have Twitter relations with that woman, Miss Lewinsky. Even better for her fresh start, we found that many of the main characters from that scandal were not on Twitter at all. Here's a rundown.
Linda Tripp
Lewinsky's "friend" from the Pentagon who secretly taped their talks in which the intern disclosed in her relationship with the president? She doesn't appear to be on Twitter; nor could we find a Twitter account for the Christmas-themed store she was said to be operating in the Virginia countryside.
Kenneth Starr
The independent counsel whose report paved the way for Clinton's impeachment by the House of Representatives? Well, he is shaping young minds. But apparently not on Twitter. This is definitely not him. 
Sid Blumenthal
There's also no apparent sign of Sid Blumenthal, 65, the former aide, fixer and loyalist to the president, whose defense of Clinton during the Senate hearings helped pave the way  for the Senate's acquittal of the president's charges of perjury and obstruction and keep him in office.
Various Lawyers
William Ginsburg, Lewinsky's original lawyer, has a DC-centric expression named for him: The Full Ginsburg (it means appearing on all the Sunday shows on the same day).  He died last year.
Then came her second team of lawyers, Jacob A. Stein and Plato Cacheris.  A search of Twitter found a @pcacheris who has tweeted once, though it's not clear whether that's him. His assistant, reached by phone, couldn't say, and Cacheris wasn't reachable by email and phone.
Someone opened a Twitter account in 2009 for a Jacob A. Stein tweeting under @LegalSpectator – and Stein has written a column by that name for  D.C. Bar magazine. But @LegalSpectator has tweeted just twice – five years ago – and Erika Rodriguez, a receptionist at his firm, said he's not active on Twitter. Stein, she said, doesn't even like to use cell phones.
Lucianne Goldberg
The literary agent Linda Tripp had approached with the revelations about Lewinsky's relationship with the president tweets at age 79(!) to a modest following, focusing on conservative, anti-Hillary Clinton, anti-Barack Obama news. Strangely, though, no mention of Lewinsky so far today.
Jake Tapper
The TV journalist, who dated Lewinsky before the Clinton scandal broke and then wrote about it, is a prolific Tweeter with 362,000 followers. He also follows more than 3,400 Twitter users including, you guessed it, @MonicaLewinsky. 
Lindsey Graham
The Republican from South Carolina, who helped manage the House impeachment proceedings against Clinton, is now in the Senate. He tweets to 64,600 followers and has focused recently on military equipment and jobs. Also no mention of Monica.
President Clinton
He tweets at least weekly to his 2.45 million followers. In recent days, he used Twitter to document his campaign trips to Arkansas and humanitarian work on the East Coast, joining groups rebuilding homes hit in 2012 by Hurricane Sandy. 
Hillary Clinton
Like all prospective 2016 presidential candidates, she uses Twitter to great effect. She's tagged @KatyPerry and #PussyRiot, got some Tweet-flirting going with ole' Bill, and celebrated the birth of her grandchild.
And back to Monica
It's too soon to know how prolific–or good–Lewinsky will be at this. Her profile, at least, was promising in that it followed the tried-and-true method of ending with something self-consciously random yet irresistible: "social activist. public speaker. contributor to vanity fair. knitter of things without sleeves."