Colleges Cut Ties With Apparel Maker Over Worker Safety
by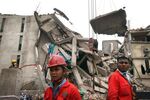 Cornell University cut ties on Thursday with clothing and bag maker JanSport Apparel, which manufactures its branded school gear, saying the company had failed to do enough to enforce worker safety rules for its suppliers in Bangladesh.
VF Corp., which owns JanSport, did not sign the Accord on Fire and Building Safety in Bangladesh, a set of standards for improving factory safety in the country, by the deadline the university had set in September.
"The sheer size of VF's presence and influence in Bangladesh behooves the company to support all initiatives designed to improve worker and factory safety in that country," said Cornell President David Skorton in a statement. VF Corp. has 91 factories in Bangladesh. In April 2013, Bangladeshi garment factory Rana Plaza collapsed and killed over 1,000 workers, sparking an international movement to bolster protections for the country's laborers, who supply some of the world's largest clothing companies.
"We are really proud right now of our university," says Michael Ferrer, a 20-year-old junior at Cornell who heads Cornell Organization for Labor Action, the student group that led the effort to push Cornell to pressure VF Corp. over its safety practices.
Fourteen other universities, including Arizona State, Penn State, and Syracuse, have already ended their business relationships with VF Corp. over its refusal to sign, according to United Students Against Sweatshops, a national group whose student chapters have been leading the campaign.
The student organizers estimate the lost deals have cost VF Corp. up to $4 million. The company reported $1.2 billion in net income last year.
"After Rana Plaza happened, we decided that it was imperative that students in the United States use our leverage to pressure brands to sign onto the accord," says Julia Wang, international campaigns coordinator at USAS. Student chapters of USAS succeeded in getting Adidas, Fruit of the Loom, and Knights Apparel to sign the accord, Wang says, but VF Corp. has held out.
Instead of signing on with the over 150-member Accord on Fire and Building Safety, VF Corp. joined the smaller Alliance for Bangladesh Worker Safety, which counts 26 American and Canadian companies among its members, including Walmart, Target, and Gap. Student organizers prefer the Accord because they believe it gives workers a broader role in factory reviews, says Wang.
"VF is pleased with the progress we've made to help make Bangladesh's factories safer," company spokesman Craig Hodges said in an e-mailed statement, adding: "We will continue our work in Bangladesh and in other countries around the world so that we can be judged by our merits and not simply by which Bangladesh working group we belong to."
Ellen Tauscher, the chair of the Alliance's board of directors and a former Democratic congresswoman, noted in an e-mail statement that the Alliance has a Board Labor Committee that advises on the group's efforts. "To imply that workers are not at the heart of our initiative is a direct contradiction of the facts," Tauscher said.
The Alliance says it completed its inspections of nearly 600 factories that its member companies source in July, earlier than the Accord, which finished inspections of 1,100 factories in September.
Before it's here, it's on the Bloomberg Terminal.
LEARN MORE