Oregon's GMO Labeling Initiative Sets Record
The initiative that proposes labels on all foods that contain genetically modified ingredients has become the costliest in Oregon history.
By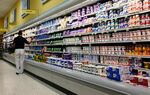 Some food fights turn out to be very expensive.  New reports filed with the Oregon Elections Division show that Measure 92, the ballot initiative to require labels for any food containing genetically modified ingredients, is now the costliest in state history. 
As of Saturday, the opposing sides in the battle have raised $16.7 million on Measure 92, a record for a voter initiative in Oregon, the Portland Tribune reported. 
The list of initiative opponents reads like the who's who of the American food industry, with Coca-Cola, Kraft Foods, Land O'Lakes, General Mills, Hershey's, JM Smucker, ConAgra Foods, and Kellogg Co. among those lining up to quash what could become the nation's first voter-approved GMO-labeling mandate. By far, the biggest cash contributor is Monsanto, the Missouri-based agricultural bio-tech company, which has donated more than $4 million to defeat Measure 92.
Leading the way in donations for the Yes on 92 effort is Dr. Bronner's Magic Soaps, which has given $1,150,000. The Center for Food Safety Action Fund also donated slightly more than $1 million, while the Organic Consumers Fund and the Oregon State Public Interest Research Group donated $300,000 and $$250,034, respectively. Ben & Jerry's, the Vermont ice cream company that renamed its popular Fudge Brownie flavor to Food Fight Fudge Brownie to draw attention to the ballot initiative, has given a bit more than $70,000. 
In Colorado, the other state where a similar GMO-labeling initiative is on the ballot, approximately $20 million has been spent so far by the measure's opposing sides, the Rocky Mountain News reported. Just as in Oregon, and in California in 2012, the bulk of that money has come from corporate interests that oppose GMO labeling.