Oregon's GMO Labeling Initiative Sets Record
The initiative that proposes labels on all foods that contain genetically modified ingredients has become the costliest in Oregon history.
By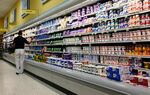 Some food fights turn out to be very expensive.  New reports filed with the Oregon Elections Division show that Measure 92, the ballot initiative to require labels for any food containing genetically modified ingredients, is now the costliest in state history.