Only LeBron Can Sell Samsung Phones and Apple's Beats at the Same Time
By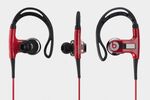 Beats by Dre released a new ad featuring LeBron James on Sunday, in which the NBA star returns to his hometown of Akron, Ohio, to lift weights while wearing wireless ear buds. It marks perhaps the first time a highly paid Samsung Electronics endorser has pitched a product made by Apple.
The new Beats ad follows the basic formula Beats used for its FIFA World Cup spot starring Brazil's Neymar: solemn, grounding words delivered by a parent to a superstar athlete son with a background of gritty street scenes and lush music. "This is the city that raised you," says James's mother Gloria, "Don't ever forget where you came from."
The ad helps maintain Beats by Dre's status as the brand of choice for brooding in locker rooms, even as rival headphone makers strike deals with the NBA and NFL. It also represents a sly marketing feat by Apple, which bought Beats for $3 billion in May and managed to grab James in the deal despite his work on behalf of Samsung.
James has been a Beats pitchman since 2008, when he took a small stake in the company in return for his services. That deal, according to ESPN, netted James more than $30 million when Apple bought the brand. As a rule, brands demand category exclusivity from their endorsers. You can't pitch McDonald's hamburgers on Monday and Wendy's fries on Tuesday. James has managed to continue his work for Beats despite the apparent conflict between the top two smartphone makers in the world.
Yet how, exactly, the two brands live together in his sponsorship portfolio is a mystery. Apple, through a Beats spokesperson, declined to comment. Samsung has not responded to a request for comment. A representative for James declined to get into the specifics of his endorsement agreements but pointed out that headphones and smartphones are different categories and that James continues to be a committed user of both Beats and Samsung products.
Apple has continued to use the Beats brand since buying the company, which is unusual for the tech giant. Beats is the rare company that offers Apple cachet it doesn't already have. And while Apple has begun removing Bose products from its store shelves, it has yet to integrate Beats into its marketing or product lines in a substantial way. When it does, the conflict with Samsung over James will become more glaring.
For Samsung, the Beats relationship is not the first awkwardness in its relationship with James. In March, James sent and then deleted a Twitter message complaining about his smartphone.
It might just be the case that James is a big enough celebrity (and savvy enough investor) to play by his own rules. Earlier this month, when he signed on to help sell Kia Motors' luxury sedan, the Korean carmaker's press release about the deal noted that its K900 is "among his fleet of exotic automobiles." King James doesn't have to be exclusive.
Before it's here, it's on the Bloomberg Terminal.
LEARN MORE