U.K.'s Missing Billions Haunt Osborne in Low-Pay Recovery
Andrew Atkinson and Lukanyo Mnyanda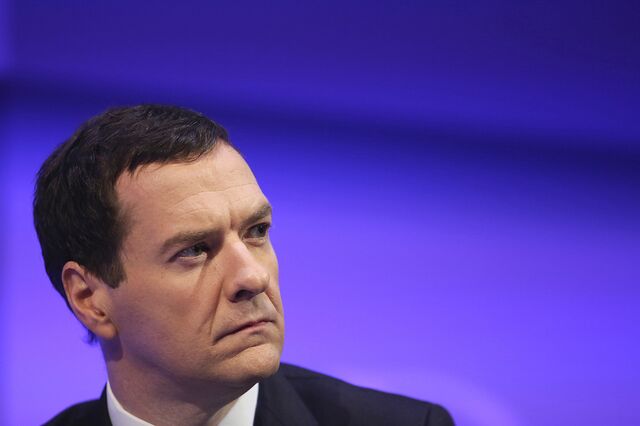 Record employment and the fastest-growing Group-of-Seven economy are doing little to help U.K. Chancellor of the Exchequer George Osborne balance the books.
While unemployment is at a six-year low of 6 percent, wage stagnation and a surge in the number of jobs paying minimal payroll taxes are costing the Treasury billions of pounds, denying Osborne the usual dividend from an improving labor market. Data today showed government spending exceeded revenue by 11.8 billion pounds ($19.1 billion) in September, more than the 10.1 billion-pound median forecast in a Bloomberg survey.
In March, government forecasters predicted the budget deficit would shrink by about 12 billion pounds in the current fiscal year. Instead, it's widening and Osborne is still less than halfway toward his goal of returning Britain to surplus by 2020, intensifying the pressure to keep squeezing spending.
"Weak tax receipts are the main source of the problem, with income tax being a particular cause for concern," said Martin Beck, an economist at the EY ITEM Club in London. "Overall deficit reduction has not just stalled, but started to go into reverse."
'Low-Tax Recovery'
Tax income rose 3.1 percent last month and spending gained 3.7 percent. The data for September mean the shortfall in the first six months of the fiscal year was 58 billion pounds, 10 percent more than in the same period of 2013.
Economists say it's unclear whether the Debt Management Office will revise its plans to sell 127.2 billion pounds of gilts in 2014-15 when the Office for Budget Responsibility publishes new forecasts on Dec. 3.
Deteriorating global economic prospects pushed the 10-year yield to 1.92 percent last week, its lowest since May 2013. It was at 2.19 percent as of 11:37 a.m. London time today, 131 basis points more than equivalent German bunds.
"If we don't see an improvement in the fiscal position in the medium term, it could start to unnerve investors, but for the moment investors are paying more attention to what's happening in the euro area and elsewhere," said Nick Stamenkovic, a fixed-income strategist at RIA Capital Markets Ltd. in Edinburgh.
Labor Paradox
The paradox of rising employment and weak income-tax revenue reflects shifts in the labor market, with lower-paying self-employment and part-time work replacing some full-time jobs. Self-employment accounts for a third of the 1.75 million jobs created since early 2010 as people hit by the recession turned to working for themselves in jobs from taxi driving to carpentry.
The proportion of self-employed workers reporting incomes below the tax-free threshold -- currently 10,000 pounds compared with 6,475 pounds in 2010-11 -- has jumped to 35 percent from 21 percent before the financial crisis, according to the OBR.
At the same time, wages are barely growing, meaning fewer people are moving into higher-rate tax bands. In March, the OBR forecast average incomes would grow 2.4 percent this year. They rose an annual 0.7 percent in the latest quarter.
"We've been getting fewer pence of revenue coming in for every pound of wages and salaries that's generated in the labor market," OBR Chairman Robert Chote told BBC Radio in an interview broadcast last week. "From the perspective of the public finances, that's not particularly good news. The chancellor of the exchequer gets more bang for his buck if wages and salaries rise than if employment goes up."
Bonus Payments
Together, taxes on income and national-insurance contributions, which are a social-security levy, account for almost half of government revenue. Osborne had been predicting about 7 percent more income tax this year. Between April and September it rose just 0.1 percent, while NICs climbed 1 percent. Total government revenue fell 0.4 percent.
While the performance partly reflects bonus payments being shifted into the 2013-14 fiscal year to take advantage of a cut in the top tax rate, an expected influx of self-assessment income in early 2015 may not be enough for the government to meet its targets, according to the Institute for Fiscal Studies.
With the deficit at almost 6 percent of output last year, the weakness of tax revenue underscores the task facing whoever wins the May 7 general election. The two main parties are committed to erasing the deficit, and Prime Minister David Cameron has pledged tax cuts if his Conservatives are re-elected.
"Some difficult decisions will have to be made and there is no scope for any pre-election sweeteners," said Beck.
Before it's here, it's on the Bloomberg Terminal.
LEARN MORE