Mapping Where Jimmy John's Ex-Employees Are Forbidden to Make Sandwiches
It might be simpler to mark where an ex-Jimmy Johnner CAN legally put meat on sub roll.
By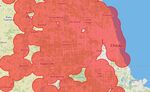 Last week, the HuffPo's Dave Jamieson wrote a great, forehead-slapping story about the ridiculous noncompete clauses that sandwich chain Jimmy John's has its employees sign. The whole piece is worth a read, but here's the nut of it:
A Jimmy John's employment agreement provided to The Huffington Post includes a "non-competition" clause that's surprising in its breadth. Noncompete agreements are typically reserved for managers or employees who could clearly exploit a business's inside information by jumping to a competitor. But at Jimmy John's, the agreement apparently applies to low-wage sandwich makers and delivery drivers, too.

By signing the covenant, the worker agrees not to work at one of the sandwich chain's competitors for a period of two years following employment at Jimmy John's. But the company's definition of a "competitor" goes far beyond the Subways and Potbellys of the world. It encompasses any business that's near a Jimmy John's location and that derives a mere 10 percent of its revenue from sandwiches.
Now, thanks to the work of news-mapping company SigActs, we have the necessary visual companion to this story: a map showing all the places in America where ex-Jimmy Johnners can't make a sandwich.
Is seems there's a lot of them—6,000 square miles, in fact. The interactive map shows a country dotted with crimson-colored noncompete zones like a bad case of measles. Note the thick concentration of criminal sandwich-making spots in cities. In Seattle, for instance, an ex-employee could legally put meat into sub rolls only in the extreme northern and southern neighborhoods (and the situation's even worse in the suburbs). And in Chicago, as pointed out by Maps Mania and shown above, they're basically confined to a teeny-tiny strip of land next to the airport.
Here are a few other cities that SigActs has highlighted on Facebook:
A couple of disclaimers: HuffPo says it isn't aware of Jimmy John's actually enforcing its draconian sandwich restrictions. And an owner of one of the fast-food restaurants adds that it's up to individual franchises to have employees sign noncompetes. Still, as a representation of the chilly heart of American lawyerdom, this map is highly illuminating. Read more about its making here.