How to Tell a President to Buzz Off if You're a Democratic Candidate
There's a certain art to telling the leader of the free world that you don't want him around.
By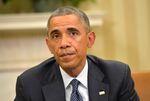 Like Dodgers fans trying to beat the traffic, the crowd that assembled to see President Barack Obama on Sunday in Maryland started heading for the doors almost as soon as he started speaking. A pool report from the event noted that a crowd had formed near the gym's exit after Obama had spoke for only about 10 minutes. In its story on the event, Reuters tied the early departures to Obama's continuing unpopularity, though none of those who made for the exits was actually quoted in the article. 
While Obama is clearly popular enough that 8,000 people even bothered to show up in the first place, the interpretation of the crowd's exit is an indication of how easy it is to diss the president these days, something that Senate Democrats trying to get re-elected know full well. To be sure, there's a certain art to telling the president you don't want him around. Let's take a look at how some of the nation's top politicians have approached it.
No out-of-staters welcome
Arkansas Senator Mark Pryor campaigned for Obama in 2008, but wants no part of him this time around. Or any other outsiders, thank you very much.
"I'm not going to invite anyone in from out of state to campaign for me," Pryor told MSNBC in March. "But if President Obama did decide to come to Arkansas, I would love to take him to rural Arkansas to show him that a lot of the policies that you see coming out of the Beltway just really don't make sense in rural America."
Threats 
So maybe subtlety is lost on Alaskans. Senator Mark Begich, who plans to "be a thorn in his ass" if re-elected, is decidedly more aggressive.
"If he comes up there, I'm going to take him up to the arctic, I'm going to show him ANWAR, I'm going to tell him why we need to drill in ANWAR, change his mind on that if I can. Bang him over the head a few times on it," Begich said on CNN in November. "I'm happy to do it."
Blame the scheduler
In the past, Colorado's Mark Udall has defended Obama's energy policies and executive actions on immigration. But times have changed. Udall, locked in a tough re-election battle, skipped a fundraiser for his own campaign this summer that Obama hosted.
Asked to answer "yes or no" as to whether he'd want Obama on the campaign trail, Udall said he'd have to check his Outlook. "We'll see what the schedule allows," he told CNN in July.
Downplay your importance
Louisiana's Mary Landrieu may be in the most important race in the nation when it comes to control of the Senate, but, to hear her tell it, Obama's probably got way more things to worry about.
"The president is more focused on running the country than helping me in my re-election," Landrieu told reporters in February when asked about the prospect of them campaigning together. (We'd venture that the president is probably aware of this race now that Landrieu has aired TV ads of herself saying that "the administration's policies are simply wrong when it comes to oil and gas production in this nation.")
Passive resistance
Maybe Obama needs to have Harry Reid pass a note to Kay Hagan asking if she likes him or not.
White House Press Secretary Josh Earnest in August: "If there's an opportunity for the president to lend some of that support to Senator Hagan's campaign, then he won't hesitate to do it."
Hagan, also in August, told the Asheville Citizen-Times editorial board that she would welcome the chance to campaign with President Barack Obama in North Carolina though she did not know whether he would make that effort.