How to Tell a President to Buzz Off if You're a Democratic Candidate
There's a certain art to telling the leader of the free world that you don't want him around.
By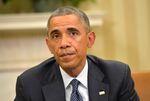 Like Dodgers fans trying to beat the traffic, the crowd that assembled to see President Barack Obama on Sunday in Maryland started heading for the doors almost as soon as he started speaking. A pool report from the event noted that a crowd had formed near the gym's exit after Obama had spoke for only about 10 minutes. In its story on the event, Reuters tied the early departures to Obama's continuing unpopularity, though none of those who made for the exits was actually quoted in the article.