Fed Policy Dilemma Seen Giving Basci Room to Ease: Turkey Credit
Onur Ant and Selcan Hacaoglu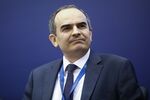 The deteriorating world economic outlook may be just what Turkey needs to spur growth at home.
With the Federal Reserve debating how quickly to raise interest rates amid signs a global slowdown could hamper the U.S. recovery, Turkish central bank Governor Erdem Basci may have a window to ease access to credit following the first drop in output in more than two years in the second quarter. Turkish policy makers have been under pressure from the government to reduce borrowing costs since more than doubling the benchmark in January to bolster the lira.
Basci can capitalize on improving appetite for Turkey's assets since Fed Vice Chairman Stanley Fischer said this month that foreign economic weakness could slow the speed with which U.S. accommodation is removed, according to Bora Tamer Yilmaz, an economist at Ziraat Investment. Ten-year lira yields have fallen the most among major emerging markets since the Oct. 11 speech.
"Lower Fed rates for a longer period is lira positive," Istanbul-based Yilmaz said by phone yesterday. "The Turkish central bank will start another easing cycle during the first quarter of 2015 if U.S. yields stay low."
Basci already cut his main rate of one-week repo by 175 basis points since May after raising it to 10 percent earlier in the year. Even as borrowing costs have fallen, signs are emerging that domestic demand, which historically drove GDP growth, remains weak.
2015 Easing
The bank can boost demand by cutting the main rate by half a percentage point to 7.75 percent during the first quarter of 2015, Yilmaz said. It may be reduced to as low as 7 percent by the end of 2015 if the Fed delays its first rate hike to 2016 because of global economic concerns, he said.
Fischer's remarks, which led to increasing bets that U.S. rate hikes may be delayed, came days after minutes of the Fed's September meeting showed officials highlighting worries over the risks posed to their economy by worsening growth abroad and a stronger dollar. Earlier this month, the IMF reduced its forecasts for global growth in 2015 to 3.8 percent from 4 percent.
The risk of a global slowdown helps Turkey narrow its current-account deficit, one of the economy's biggest vulnerabilities, by pushing oil prices lower, said Inanc Sozer, chief economist at Odeabank AS in Istanbul.
Best Debt
Brent crude, the global benchmark, traded at about $86 a barrel today, down some 26 percent from this year's high in June. Brent may drop to as low as $78 a barrel in the next three months, UBS AG said last week in a report. That compares with the Turkish central bank's expectation of $106 per barrel for 2015 in its July inflation report.
The yield on Turkey's 10-year government bonds fell 12 basis points to 8.83 percent today, extending declines since Fischer's speech to 64 basis points, and making it the best performing emerging-market debt tracked by Bloomberg. The lira gained 2.1 percent during the same period, the best performance among emerging-market currencies.
The "benign environment" for the lira is set to continue, Luis Costa, the chief strategist for eastern Europe, the Middle East and Africa at Citigroup Inc. in London, wrote in an e-mailed note yesterday.
As a result, the Turkish central bank "will be extremely tempted to cut the rates corridor again early next year," he said.
Before it's here, it's on the Bloomberg Terminal.
LEARN MORE