A Promising Experimental Ebola Drug Goes Overlooked
Paul M. Barrett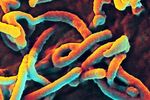 In all the panic and controversy over Ebola, government and public-health authorities seem strangely oblivious to a potential remedy that deserves attention. Sarepta Therapeutics, a biotech company in Cambridge, Mass., has a small supply of an experimental Ebola drug that has shown promising—if very preliminary—results in laboratory trials for safety and effectiveness.
In private meetings, Sarepta has reminded various arms of the U.S. government that the drug, known as AVI-7537, is available in limited quantities—but so far to no avail. Making the situation all the more puzzling, the U.S. government in years past funded Sarepta's research on Ebola, until the Department of Defense abruptly cut the program for budgetary reasons in 2012.
Sarepta hasn't kept any of this a secret. As recently as Sept. 30, the day that Thomas Eric Duncan tested positive for Ebola in Dallas, the company's chief executive officer appeared on CNBC to discuss research in the area. Sarepta CEO Chris Garabedian said that with a modest amount of fresh government funding, his company could expand its supply of AVI-7537 from the couple dozen courses of treatment it has on hand to enough medicine to treat 100 Ebola patients.
"We have been communicating to all of the government agencies, the World Health Organization," Garabedian told CNBC. "We've had people at the table at every substantive discussion around how to manage this Ebola outbreak and have educated everybody who's interested in learning about our technology and the drug we have available. Everybody knows we're here. They know the drug we have, and we're waiting for that call."
The call hasn't come, even as the Ebola crisis has intensified in the wake of Duncan's death and the subsequent infections of two nurses in Dallas. In recent weeks, Garabedian has refrained from making public comments. A reasonable surmise is that he doesn't want to be seen as trying to cash in on public panic or embarrass government officials facing widespread criticism for their slow reaction to a disease that has killed thousands in Africa and spread fear elsewhere in the world. Garabedian declined to comment for this article.
Last week, Sarepta issued a little-noticed press release announcing the anticipated publication of a study showing "no clinical or toxicologic safety concerns" in human test subjects administered AVI-7537. The submission of the study for publication in the November issue of the journal Antimicrobial Agents and Chemotherapy occurred well before Duncan's diagnosis made Ebola a major topic of concern in the U.S., according to a Sarepta spokesman.
Duncan was given the experimental drug brincidofovir, made by Chimerix (CMRX). It could be that he received the drug too late and that no medicine would have saved him, Thomas Geisbert, a virologist at the University of Texas Medical Branch at Galveston, told Bloomberg News on the day Duncan died. Another possibility raised by Geisbert is that the Chimerix drug is not as effective as two others that have been tried on Ebola patients: ZMapp, from Mapp Biopharmaceutical, and TKM-Ebola from Tekmira Pharmaceuticals (TKMR). To date, no experimental Ebola treatment tried on patients has been proven in a study to be effective in people.
Sarepta received a $300 million federal contract in 2010 supervised by the Department of Defense as part of a research program targeting Ebola and another deadly viral disease. Over the next two years, the company tested its Ebola compound on 90 infected monkeys. Subjects in the control group that didn't get the drug all died, typically within eight to 12 days. Of the 67 monkeys that received treatment, however, 60 percent to 80 percent survived, Garabedian told CNBC. In the company's recent press release, Michael Wong, Sarepta's senior medical director for infectious diseases, was quoted reiterating the primate survival rate of "up to 80 percent."
In 2012, the Defense Department, citing general budgetary constraints, eliminated funding for Sarepta's Ebola program, effectively bringing the research to a halt. "Sarepta's drug showed some promising results and deserves a look to see if it's effective in humans," Steve Brozak, president of WBB Securities and a biotech analyst, said in an interview. Brozak declined to speculate on why the company's drug hasn't received more attention during this year's Ebola outbreak.
One possible explanation is government disorganization: bureaucracies that haven't communicated effectively. A darker theory is that officials who participated in a decision to stop funding Sarepta's Ebola research are having difficulty revisiting a choice that in retrospect might have been precipitous or unwise.
Before it's here, it's on the Bloomberg Terminal.
LEARN MORE