Dirty French: A Flashy Bistro From the Carbone Team
by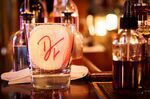 Usually, I'd say don't bother with anything for two when you go out, especially not the chicken. It's an increasingly tedious and overpriced performance in New York and if everyone wants to eat the same thing, you can do a fine job of that at home, roasting a bird over some vegetables, improvising a sauce with the caramelized bits stuck to the bottom of the pan.

The chicken and crepes dish for two ($72) at Dirty French is something else. You will need a large table to comfortably hold the setup. The breast meat has been roasted and sliced beautifully, laid over some kind of creamy mustard sauce. It is served with many fixings: a sweet apricot-tamarind jam and pleasingly oily harissa to drip over thin pancakes, plus raw chiles, basil, and mint to pile on top. The legs, which arrive separately, are poached slowly in chicken fat, then grilled. You'll want to pick them up with your fingers so you can work at the sweet, black, crackling skin, which tastes of kaffir lime leaves.

If you set aside the technical issues with those crepes (they are useless, cold, and cracking within minutes, served in ridiculous scrolls of parchment paper) this is a very good chicken dish. It's also a reminder of the fun you can have at restaurants, eating elaborate things you might not make at home.
Dirty Who?

The restaurant on the ground floor of The Ludlow hotel on the Lower East Side is the latest from Major Food Group, the team behind a series of themed dining rooms including Carbone, where the cliches of Italian-American dining are elevated with style.

Here, the team has turned to the French bistro for inspiration. But there's a glitter of ras al hanout on the duck a l'orange ($39), and the exquisite cloud of warm flatbread with fromage blanc is dusted with something approximating za'atar. You'll also notice feuille de bric on the menu, a sheer pastry from Tunisia, where it's used in many ways, most famously to wrap a street snack filled with runny eggs, chopped onion, and harissa. Dirty French makes the pastry in house, and takes it as far away from the street as it possibly can, filling it with foie gras and rolling it up like a sleek, unsnipped cigar ($24). It's a dramatic presentation, covered with a massive heap of perfectly cut chives (someone is cutting an awful lot of chives back there), though it doesn't really snap.


Like chefs in France have been doing for many years, Rich Torrisi and his cooks are reaching for traditional North African ingredients and applying them to French standards. But the kitchen is also drawing freely from Louisiana -- the boudin isn't made in the French style, with pig's blood, but American style with rice and liver ($16).
Dirty French. It has the ring of something nice and filthy, something you'd work up the courage to try only once in bed, then spend a lifetime trying to forget. But presumably the cheeky name is actually a reference to all these culinary influences from outside of France -- Tunisia, Morocco, Vietnam. In this context, it sounds more than a bit like a schoolyard slur reserved for kids like myself growing up in France -- the brown-skinned, French-speaking children of immigrants.

Potato 'O' Clock

And now for a brief potato interlude. Boulangere. Frites. Puree. The last is just mash, of course, but the French word indicates there will be more butter and a finer, softer texture. Dirty French delivers both. The frites, on the other hand, are they frites? They are long, wide, tongue-shaped pieces of potato that have all the crispness, but none of the softness. They aren't bad, but I tell you all this because to remedy the situation, my friend and I dipped the fried potatoes in the mashed potatoes like animals, and the charming waitress applauded our efforts. This sort of thing comes easy at Dirty French.

The room has the high, wood-beamed ceiling of a palatial chalet and a giant mirror hanging on the wall, surrounded by light bulbs. The red leather booths are filled with finance bucks in glossy dress shirts, seated in packs of four, passing around plates of sausage and ham, pointing to the type of oysters they want from a silver platter, and generally overdoing it. There are plenty of dates, too, consulting the wine director Lelañea Fulton for tastes from her all-French list, and nibbling on trout meuniere.

Some of the best dishes are closest to their bistro counterpart, and I fangirled a bit over the frisee salad with big pieces of sweet, salty pork because it was finished so elegantly at the table. It came with a skewer of hot charred chicken giblets and green peppers and so much tarragon, and the spry French waiter made a show of sliding the giblets off into the leaves, breaking the egg with a silver spoon, and turning everything around to coat it properly before serving us. Like at Carbone, the theater of service is a big part of dinner.

The beignets were disappointing, with big, fat, greasy bottoms, but there may be no finer citrus tart in New York City than Heather Bertinetti's beautiful version here. The curd is cold, extremely smooth and buttery, tasting of fresh lemon and lime -- it's a bright acidity but also something rounder and softer, all flowers and perfume, not at all raw. Bertinetti uses some juice of preserved lemons, which may account for the savory quality, but it's not salty, and the pastry is delicately thin and crisp ($10).

There is so much to enjoy at Dirty French if you're in mood to eat richly and speak loudly over the music, a relentless stream of '80s hits that seem picked by mediocre wedding DJ.

"What's with the music?" My friend shouted. "Does it ever change? Can you make it stop?" The waitress frowned and leaned closer to us, and I worried we'd offended her. "I know, it's so bad," she said. "And believe it or not, it gets louder."


Rating: 2/4 Stars (Very Good)

What to order: Roasted oysters ($24 for 6), frisee au lardons ($18), duck a l'orange ($39), chicken and crepes for two ($72), citrus tart ($10).

Who's next to you: Guys in the finance industry straight from the office, serious fans of Carbone arguing over their relative merits, thirtysomething singles of the LES in moto jackets.

Need to know: If you can't get a reservation, walk in and sit at the bar for a smaller menu that includes the roasted oysters, Surryano ham with remoulade, and more shareable plates.

Soundtrack: The kind of 1980s pop music you somehow know all the words to (though I caught a little Isaac Hayes, circa 1974), gradually turned up throughout the evening until it's blasting.

Dirty French is at The Ludlow Hotel, 180 Ludlow Street (Lower East Side); +1 212 254-3000 or dirtyfrench.com
Tejal Rao is the New York food critic for Bloomberg. Follow her on Twitter @tejalrao and Instagram @tejalra or contact her at trao9@bloomberg.net
To contact the editors responsible for this story: Justin Ocean at jocean1@bloomberg.net, Chris Rovzar at crovzar@bloomberg.net.
Before it's here, it's on the Bloomberg Terminal.
LEARN MORE