Chipotle Predicts Growth Slowdown After Topping Estimates
Leslie Patton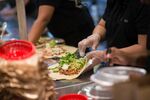 Chipotle Mexican Grill Inc., the best performer in the Standard & Poor's 500 Restaurants Index this year, said sales growth may slow in 2015, raising concerns the company won't maintain its multiyear hot streak.
Sales at restaurants open at least 13 months will increase at a low- to mid-single digit percentage rate next year, the Denver-based company said yesterday in a statement. That compares with growth in the mid-teens this year, Chipotle said. Analysts estimated same-store sales growth of 7.2 percent in 2015, according to Consensus Metrix.
The shares declined 7 percent to $607.55 at the close in New York, the biggest drop in two years. Chipotle has climbed 14 percent this year, the only gain in the S&P 500 Restaurants Index.
The company's 2015 sales forecast doesn't reflect "the most powerful growth story," said Jason Moser, an analyst at the Motley Fool in Alexandria, Virginia, who recommends buying the shares. "That's just an early projection -- that could turn out to be very conservative, that could turn out to be spot on."
The company had been bucking the trend of sluggish sales at U.S. restaurants, with customers flocking to the chain in search of healthier fare and the option to customize their meals. Same-store sales rose 20 percent last quarter. Analysts estimated 17 percent, the average of 24 projections from Consensus Metrix.
Quarterly Earnings
Third-quarter net income jumped 57 percent to $130.8 million, or $4.15 a share, from $83.4 million, or $2.66, a year earlier. The average of 25 analysts' estimates compiled by Bloomberg was $3.83 a share. Revenue climbed 31 percent to $1.08 billion, exceeding analysts' $1.06 billion projection.
Catering sales and higher prices have helped boost results. Catering made up 1.6 percent of revenue in the second quarter, Co-Chief Executive Officer Monty Moran said on a conference call in July.
Chipotle, which has more than 1,700 restaurants, recently raised U.S. menu prices by 6.25 percent to 6.5 percent on average. The company is seeing higher costs for major ingredients, including beef, avocados and dairy.
While avocado costs probably will stabilize next year, beef prices will remain high, Chief Financial Officer Jack Hartung said on a conference call. So far, the company has seen little resistance to its menu price increases, he said.
The company also will see higher labor costs after employees begin enrolling in health-care insurance, he said. About 10,000 hourly workers will have the chance to sign up this year, he said.
The company is planning to open as many as 195 new restaurants this year and 205 next year.
Before it's here, it's on the Bloomberg Terminal.
LEARN MORE