Carstens Says Mexican Drug Violence Blunting Economic Growth
Eric Martin and Brendan Case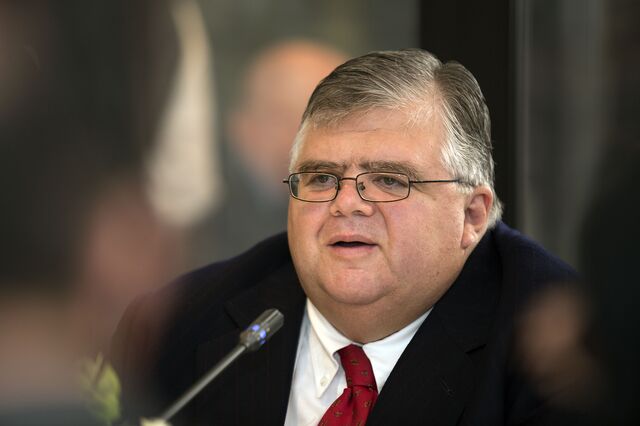 Mexican central bank Governor Agustin Carstens said drug-related violence is damping growth, hours after federal police took over security in 13 towns following the alleged massacre of students in Guerrero state.
"There is no doubt that violence has been a negative factor," Carstens, 56, said in an interview at Bloomberg's Mexico City office. "This is a problem that Mexico has been tackling for the last few years. It's a deeply-rooted problem."
Carstens cited a central bank analyst survey published Oct. 3 that showed public security problems as the top obstacle to Mexico's economic expansion, followed by fiscal policy, weak domestic demand and international financial instability. The bank unexpectedly cut its benchmark rate to a record-low 3 percent in June to bolster growth that has missed economists' forecasts in seven of the past nine quarters.
Mexico's news in the past month has been dominated by two alleged massacres involving police and soldiers. Forty-three college students have been missing in the southern Mexican town of Iguala since last month, and 36 local police and 16 gang members have been detained on suspicion of abducting them, according to the Attorney General. In a separate case, three army soldiers are being charged with homicide after a June incident that left 22 people dead.
A surge in violence has left more than 70,000 dead in Mexico since President Enrique Pena Nieto's predecessor, Felipe Calderon, sent the army to fight drug cartels in 2006, according to Milenio. Carstens served as Calderon's finance minister before taking the helm of the central bank in 2010.
The peso weakened 0.1 percent to 13.5363 per U.S. dollar at 4 p.m. in Mexico City.
Taking Control
Mexican authorities are dealing with the issue of violence, and it's likely to ease over time, Carstens said.
In the meantime, "what can Banco de Mexico do about it? Not much. Just do our job and basically not have another source of uncertainty in the economy," Carstens said.
Mexico's federal police took over security in 12 towns in Guerrero state and one in Mexico State after investigators uncovered alleged links between local police and organized crime, National Security Commissioner Monte Alejandro Rubido said at a news conference yesterday. The evidence came to light as authorities investigate the disappearance of the Iguala students, Rubido said.
'I Would'
Carstens, whose six-year term ends in December 2015, said he'd serve a second term if asked by Pena Nieto. Carstens ran unsuccessfully for the top job at the International Monetary Fund in 2011, losing to France's Christine Lagarde.
"I think I would," Carstens said, when asked if he would serve another term. Pena Nieto's press office declined to comment on plans for the upcoming central bank nomination. The president today asked the Mexican Senate to approve another eight-year term for central bank Deputy Governor Roberto del Cueto, one of five board members including Carstens who vote on interest rates. Del Cueto joined the bank board in 2007.
The central bank's forecasts for inflation and growth are unchanged from its quarterly report published in August, Carstens said. Policy makers expect the inflation rate to slow to near 3 percent in 2015 and the economy to grow 2 percent to 2.8 percent this year and 3.2 percent to 4.2 percent next year.
Asked about the possibility of renewed dollar auctions following the peso's slump to the weakest intraday level since 2012 last week, Carstens said he sees a flexible exchange rate policy as "appropriate."
Peso Forecast
The peso will probably strengthen once markets normalize following their initial reaction to the Federal Reserve withdrawing its monetary stimulus, Carstens said. The 2015 budget's assumption for the peso to trade at 13.4 per U.S. dollar next year seems "in the bounds of reasonable," he said.
The peso will strengthen to 13 per dollar by the end of next year, according to the median forecast of analysts surveyed by Bloomberg. Economists forecast the central bank to leave interest rates unchanged until the third quarter of next year, when they'll probably raise borrowing costs, according to the survey. The central bank's next rate decision is scheduled for Oct. 31.
"There are probably reasons to expect in the future a stronger peso as things normalize in the markets," Carstens said. "Oftentimes given the liquidity of the Mexican peso, being the largest emerging-market forex market, we tend to observe more than justified depreciation."
Before it's here, it's on the Bloomberg Terminal.
LEARN MORE