Senate Cheat Sheet: Democrats on Defense
Democrats are looking to hold on to control of the Senate in a year that has no shortage of challenges.
By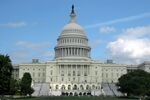 Republicans are certain to gain ground in the Senate in the Nov. 4 elections. The only question is whether they'll make the net gain of six needed to overturn the Democratic majority in what's a must-win election year for Republicans.
Whether the GOP can take control of the Senate is a question that may not be answered election night, or for days or weeks thereafter. A runoff is likely in Louisiana and possible in Georgia. The polls in vast Alaska close at midnight eastern time, and it may take days to determine a winner. (In 2008, Ted Stevens conceded a 1-point loss 15 days after election day.) Then there's the possibility of a win by Kansas independent Greg Orman, who hasn't said which party he will caucus with should he unseat Republican Pat Roberts. And there are just so many close races 16 days before the vote.
Here's a look at the 14 most consequential Senate elections on the midterm ballot:
Democratic-Held Seats
Republican Pickups: The surest Republican pickups are in Montana and West Virginia, where incumbent Democrats are retiring and anti-Obama sentiment runs high.
South Dakota Slippage: Republican Mike Rounds, South Dakota's former governor, still looks to have the edge in the race to fill the seat of retiring Democrat Tim Johnson, though Rounds is no longer the overwhelming favorite in a contest that includes Democrat Rick Weiland and independent ex-senator Larry Pressler. Here's why.
Most Vulnerable Democrats: Senators Mark Pryor of Arkansas, Mark Begich of Alaska, and Mary Landrieu of Louisiana all face serious Republican opposition in states that are strongly anti-Obama. Republicans are assured of a 51-seat majority if they knock off these three incumbents, win the Montana, West Virginia, and South Dakota open seats, and hold all of their own seats.
Obama lost Arkansas more decisively than Walter Mondale in 1984, which helps explain why Republican Representative Tom Cotton mentioned Obama or Obamacare 77 times in a debate with Pryor last week. Pryor is running as a protector of Social Security, Medicare, and farm programs. Bill Clinton has made multiple stops for Pryor in the state he governed for a dozen years.
In Alaska, Republican Dan Sullivan has opened up a small lead over Begich in polls in a state that's notoriously difficult to poll. He, too, has been regularly linking the incumbent to Obama. Begich is touting his deep Alaska ties and work on behalf of home-state industries, while criticizing Sullivan on women's health policy.
In Louisiana, Landrieu and Republican Representative Bill Cassidy top a crowded ballot and are likely headed to a runoff on Dec. 6. Will the Republicans have reached 51 seats by then? As the Cook Political Report's Jennifer Duffy said Sunday on C-Span, "whatever that race looks like the day before the election, the runoff that starts the day after the election will be an entirely different race, and a lot of it is going to depend on where the Senate is."
Colorado and Iowa: Lackluster Democratic campaigns have aided Republicans in states that Obama won in 2012 by single-digit margins but that are now leaning more Republican at the six-year mark of a two-term Democratic administration. An average of polls gives Representative Cory Gardner of Colorado and state Senator Joni Ernst of Iowa slight leads over their Democratic opponents, Senator Mark Udall and Representative Bruce Braley, respectively.
Don't Overlook: Democratic incumbents appear to have small but steady leads in North Carolina and New Hampshire, though these contests are still highly competitive. Republicans have intensified their campaign spending in North Carolina. In New Hampshire, Republican challenger Scott Brown is staying close to Democratic incumbent Jeanne Shaheen.
Michigan Off the Radar: Michigan is a moderately Democratic-leaning state that could elect a Republican senator in a good Republican year with a good candidate. But Democratic Representative Gary Peters has expanded his edge over Republican Terri Lynn Land into the high single digits.
Republican-Held Seats
Kansas Cavalry: In Kansas, the Republican political machine is firing on all cylinders to try to rescue Senator Pat Roberts from what would be an embarrassing loss in a state that has voted exclusively Republican for president since the 1960s and for senator since the 1930s. A big question is whether Orman, running even or slightly ahead of Roberts in the polls, can withstand the advertising barrage from pro-Roberts forces without overt backing or funding from Democratic groups that don't have a candidate but clearly would prefer Orman. At least two super PACs, including Larry Lessig's anticorruption MayDay PAC, are backing Orman.
Georgia Runoff? Democrat Michelle Nunn, the daughter of a former senator, hopes her criticism of Republican businessman David Perdue's past outsourcing will slide her into a runoff with him on Jan. 6, three days after the scheduled start of the next session of Congress. Democrats have intensified their campaign spending in Georgia. Perdue is also tying Nunn to Obama in a state the president lost by 8 points in 2012.
Mitch McConnell: Democrat Alison Lundergan Grimes has always had a high floor but a low ceiling in her campaign to unseat the Senate Minority Leader in Kentucky. McConnell has poor approval ratings, but Obama has an even worse public image. That, plus a meticulously planned re-election campaign, may be enough for McConnell to wheeze over the finish line. He would be in line to lead the Senate if he wins a sixth term and his party makes that six-seat gain.